Think outside the box and get you little guy something he totally doesn't expect. Get the über cool boy stuff and then sneak in some items to decorate his room too! Here are some gifts for boys from pre-school to high school.
Modern wall art is something he will like in his room for years to come. Mix different styles, colors or sizes to make unique art for his bedroom. Even Mom and Dad will love the Avalisa wall art. Starting at 59$ by
Avalisa
.
Boys tend to say they don't like soft gifts. Well, he will love these Lore Dragon corduroy trousers – the dragon applique will change color in the sun light and he will be the coolest dressed kid in the school this winter. Dragon pants in sizes 4-12, 74$ by
Fable & Lore
.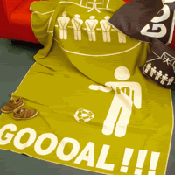 It's a goal! You will score with this blanket – he will love it for game trips or even as a decoration in his room. 79$ from
Modern Seed
This car uses clean energy – water. Gear your kid for the 21st century with this cutting edge hydro-car. Car runs on clean energy technology – it is poweded by water. A fun science lesson! 79.95$ at
Discovery Channel Shop
For all those wild boys, big and small – they will love to record their crazy stunts, ski jumps and board tricks. He might not know it yet, but the take-along camcorder is on the top of his wish list. Oregon Scientific ATC 2K Action Cam Flash Memory Camcorder 85$ from
Amazon
.
The Razor E125 is the perfect entry level electric scooter for kids 8+. It is fast and so much fun! 99$ at
Amazon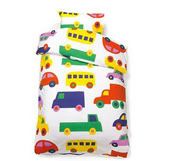 The Marimekko Bo Boo modern bedding is cute but contemporary. Primary colored cars and trucks make it easy to coordinate this set to other room deco. Modern design for children at its best. Duvet 99$ by
marimekko
.
See more great gifts in the Skimbaco Lifestyle Holiday Gift Guide: