Boys will be boys no matter what, but you might as well sneak in some fun gifts, which actually have an educational function, or engage the child to use imagination. Playing outdoors is always good, so try to think of new activities outdoors as well. Here are some fun filled gift ideas for boys.
Remember all the toy recallsthis fall? Boycott big toy companies and get your child safe alternatives. natural Pod has a wide selection of safe, non-toxic toys. Wooden truck with snowplough extention, 105$ at
Natural Pod
.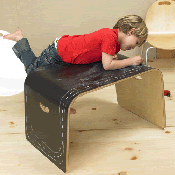 The durable laminate surface flows to the ground so that kids can draw with chalks on all sides of this very resilient table. Not just that it look very modern and will be the perfect kids' table in the contemporary home, but it also is so fun! 110$ from
Modern Seed
.
Artist Jill McDonald has illustrated this high energy scene with trucks, cars, planes and buses. But what makes it really special? It can be personalized for your son! 119$ from
Land of Nod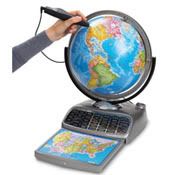 Learning geography is so much fun with this Smart Globe. This "smart" globe solves the problem by using the Internet to update its database. Learn about a country's population, weather, currency and more with a touch of the digital pen. Features 30 activities and 3 age levels: 5 to 8, 9 to 14, or 15 and up. 149.95$ from
Mind Ware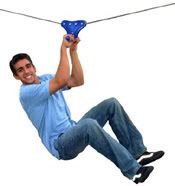 Want kids to stay at your own yard? Get them the Fun Ride Super Z, a cable with a weather proof handle for years of airborn fun at your own back yard. 149.99$ from
Back to Basics Toys
.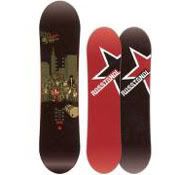 Rossignol Mini Pro Snowboard is a great choice for beginner to intermediate freestyler. 169.95$ at
Skis.com
This tent is perfect for little boys who like to play pretend play! Let him be a knight is his own castle. 177$ at
Giggling Toys
.
Little boys love this! Make-my-own-monster custom design kit with instructions how to design your own monster, and then the American Bear company will create an excat replica of your child's own drawing – the monster comes alive as a plush toy! Don't look at the price tag – this toy will be a memory of a lifetime. 249$ at
FAO Schwarz
.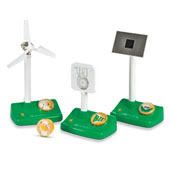 Get your child interested in renewable energy with this kit. Three methods of clean energy generation —wind, water and solar— are used to power four output devices. The power meter, light display, buzzer and the gear motor give an instant understanding of how energy can be transferred from natural power sources. The easy-to-assemble, click-together kit comes with teacher project notes for measuring how different levels of energy input affect output. 249.95$ from
Mind Ware
See more great gift ideas in the Skimbaco Lifestyle Holiday Gift Guide: