So today someone told me Sarah Silverman is on Twitter.
And I made a huge mistake.
I think her video with the sexiest man of 2007, Matt Damon, was hilarious, and I just had to follow her.
She'd be a perfect person to really succeed on a site like Twitter – connecting with her fans & ultimately gaining positive PR. And thus… I recommended people to follow Sarah Silverman too. But I did it too soon – before investigating if it really was the real Sarah Silverman.
Now I wish I hadn't told my tweeps to follow her too, and I believe that the real Sarah Silverman is not on Twitter and someone's joke will cause bad PR for her.
This is my public apology for the Real Sarah Silverman for me asking people to follow "her" on Twitter.
I read the whole
"@Sarah Silverman"
twitter stream, and now believe that a Twitter user
@imKM
or one of his friends is behind the Sarah Silverman's twitter stream.
I apologize in advance if this isn't true but here is how I base my opinion why I think we are still just waiting that Sarah Silverman joins Twitter.
1. The first person "Sarah Silverman" followed: @imKM
2. "Sarah Silverman" is constantly tweeting about @imKM
3. "Sarah Silverman" spelled Matt Damon's name wrong in the tweets.
4. The first person "Sarah Silverman" was following was
@dylan_lindgren
– a twitter stream of one tweet and one person he follows: @sarahsilverman.
5. The link from @sarahsilverman Twitter page goes to
Sarah Silverman fansite
, not administered by her PR folks.
6. And a few tweets in the twitter stream make me really wonder…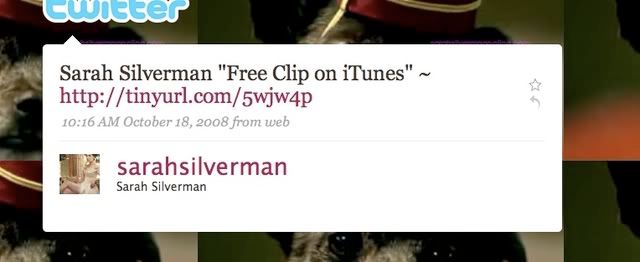 Would she promote free clips with a link that goes for the unofficial fansite?



Um… the point of Twitter is actually to have a conversation with people.




Sarah begging..? Somehow I don't see that happening.





Excessive use of hash tags? More begging and mentioning cocaine?
Desperate, bad bad PR
– and I can't believe the real Sarah Silverman would be this stupid.


WHAT CAN WE LEARN FROM THIS:

Go and get your name on Twitter RIGHT NOW, before someone takes it.
Be in control of your Twitter stream.
And Sarah, I have
50+ reasons why you should join Twitter
right now. You can help me to help you to get you on Twitter and hire me as your PR / Social Media Consultant to assure your brand gets the right exposure, and don't make the same mistake as
Britney Spears
.
PS. And for the
unofficial Sarah Silverman fan site
– this is bad PR for you too. I'm sure you are happy now because of the traffic you are receiving from Twitter, but if you are behind the highjacking of Sarah Silverman's Twitter stream, this will ultimately be bad PR for your site and will ruin your reputation.