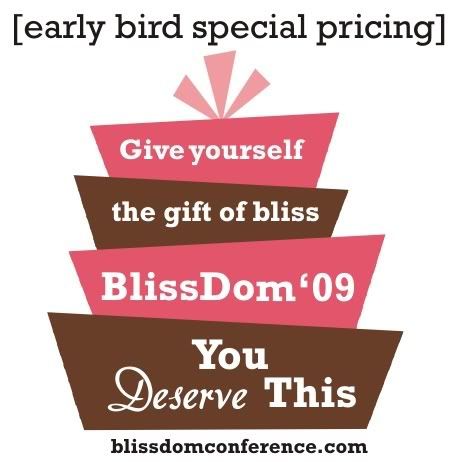 Santa didn't bring you what you wanted?
Time to make New Year's resolutions?
Now worries, I have something here for you I know you want. Some delicious Bliss, dripping with fun, no extra calories, this is the one treat you can have and eat it too. Meeting the top women bloggers face to face, getting new ideas, tips and inspiration to take your blog to the new spheres. And how about sipping some
Blissdopolitans
with your friends and getting to travel in style? Talk about a treat! Make the best resolution ever – treat yourself well and commit into making your life a bliss by learning new things!
Join me and come to
BlissDom Conference
in February 6-7 in Nashville, TN! Get tickets now – the price goes up first of January!
BlissDom Conference is from women to women – practical advice, friendships, inspiration and hard core information you will need to take your blog to the next level. The two-day conference offers sessions for beginners and for those who have been blogging already for a while. Learn about building your blog, your brand, and your business while achieving bliss in those other areas that are so important too: being a mom, a wife, and being true to yourself.
I am so excited about going to BlissDom and meeting all the amazing women coming there. Some of the people coming that I can't wait to meet are Lori from
A Cowboy's Wife
, Amy from
Resourceful Mommy
and Steph from
Adventures in Babywearing
, and especially the two superstars, the hostesses of BlissDom Conference, Allison Worthington of
Blissfully Domestic
and Barbara Jones of
One2One Network
. The main sponsor for the event is Walmart.
The BlissDom Conference is held at the
Preston Hotel
, a nice boutique hotel close to airport and Opryland – we used to live close to Nashville, and the Opryland shopping is a familiar experience (if you get the change to go shopping, eat at the Aquarium).
GET TICKETS NOW
Register for BlissDom Conference NOW
, the early bird price 100$ for the ticket ends December 31st! Act now to get the ticket and save 50 dollars! Please leave a comment here, if you are coming, I would love to meet you there!