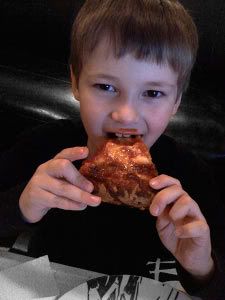 Last week was pretty hectic for me. Catching up on things after coming back home from a blogging conference in Las Vegas, and trying to balance the work and family time. By Friday my brain was fried, and I also felt like it was time for my check up with my doctor, who unfortunately didn't deliver the news I was expecting. It was late afternoon, and I knew that by the time I'd get home I would have a hungry family expecting for dinner, and no food in the fridge. I stopped at the drug store on the way home and quickly skimmed through the aisles to find something for dinner. Filled my cart with breakfast cereals, nutritional bars, stocked on toilet paper and kitchen paper towels, got my medicine… and finally bingo at the frozen food section; frozen pizza. I had horrible mommy guilt for bringing a frozen pizza home (at least I could have ordered one!), and unwrapping it for oven. We take dinner time pretty seriously in our home, and often cook it together, and always eat it together. My six year old son was pretty impressed by the pizza though, he had never seen a frozen pizza being unwrapped for oven, and wanted to keep the oven light on to see it baking in the oven. My girls were asking for a family movie night, and figured pizza was a perfect TV dinner and set the table in the front of the TV on our coffee table. Plates, cups and paper towels. It took less than 5 minutes to set the TV dinner, get the movie ready and I got to relax even before the pizza was ready. Kids loved the novelty of sitting on the pillows on the floor or on the couch, watching one of their favorite movies,
Race To Witch Mountain
, and eating without a fork and a knife – and having fun wiping their cute little faces with paper towels after eating the greasy pizza! I was thinking to myself… Why did I have the mommy guilt again? The food might not have been the tastiest, but it was the perfect dinner and evening with my family. In fact, I deserved a night off cooking dinner, and my kids deserved a dinner and a movie. And again I proved to myself to live life to the fullest, even if it doesn't mean perfectly cooked dinners and perfectly set dinner tables. There is comfort in sharing the moment of sticky fingers and greasy pizza with your kids. And then.. trusting the paper towels to clean up the mess.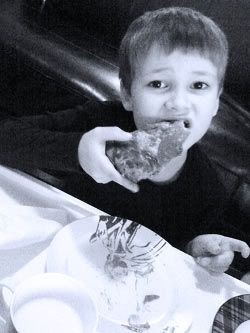 Full disclosure: This post was sponsored by Viva Towels. For fun, fork-free recipes – including videos – and snappy entertaining ideas, get over to the
VIVA® Diva Café
.