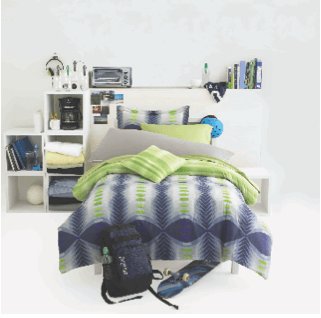 Macy's is a great place to shop for essentials for a college dorm! We shop at Macy's for clothes, shoes and makeups, and I always stock up on kitchen essentials at Macy's, so going to college with a little help from
Macy's home decorating department
only makes sense.
Macy's and Levi's College Lifestyle Shopping Party
Show your student ID or acceptance letter in the Home Department and receive 10% off your Sale and Clearance store purchase at your local Macy's.
Exclusions apply. Ask your sales associate for more details. Valid through September 30th, 2011. In addition to the 10% off shopping for college students at the Home Department, Macy's and Levi's present a College Lifestyle Shopping Party in selected Macy's locations. You can find everything needed for the college dorm – whether you are fresh to college and decorating your dorm, or a mom helping your student to spruce up hers/his dorm room. What's even better – you can have a great time while shopping for dorm essentials! While you're scoping out the newest items to trick out your dorm room, you can enjoy music, food & mocktails.
Get Levi's Jeans – Get $10 Macy's Gift Card at the In-Store Events
College students are in for a real treat on selected locations, when you buy two pairs of Levi's Jeans, you will receive a $10 Macy's Gift Card. ** Simply show your receipt to the Levi's Representative in the Home Department to receive your gift card.
MACY'S & LEVI'S COLLEGE LIFESTYLE SHOPPING PARTY LOCATIONS
July 27th from 4-7pm The Washington Square Mall Tigard, OR July 29th from 12-2pm Macy's Boston (Washington St.) Boston, MA July 30th from 2-4pm The Hilldale Shopping Center Madison, WI July 30th from 2-4pm The Towson Town Center Mall Towson, MD July 30th from 2-4pm The North Point Mall Alpharetta, GA July 30th from 2-4pm The Barton Creek Square Mall Austin, TX Event subject to change or cancellation. While supplies last. **Offer valid at participating Macy's stores during event hours only. While supplies last. Limit two (2) ten doller ($10) Macy's gift cards per household. Terms and conditions for Macy's gift cards are listed on the back of gift cards and at Macys.com. 2011 Levi Strauss & Co. All rights reserved.
Disclosure: I received a Macy's gift card as a gift from Everywhere to post this, but all my opinions are my own.