If you've been reading my blog for a while this comes as no surprise to you: I love bracelets. They dress up (or down) any outfit, they tell a story, they reveal your personality or simply are just a fun fashion accessory. I've started wearing my old classic charm bracelet again, but am always scouting for fun bracelets and right now I'm specifically looking for colorful fun wrap bracelets for the spring. I have great leather wrap bracelets, but they are all black or grey, and I'm craving for some color, more specifically I'm in the search of red bracelets. You can't have a bad day when you are wearing red! Be adventurous with color red, and give it a try with one of these bracelets this spring. All of these red bracelets are under 30 bucks, so they won't break your bank, but they just might break you into wearing more color!
8 Red Bracelets Under $30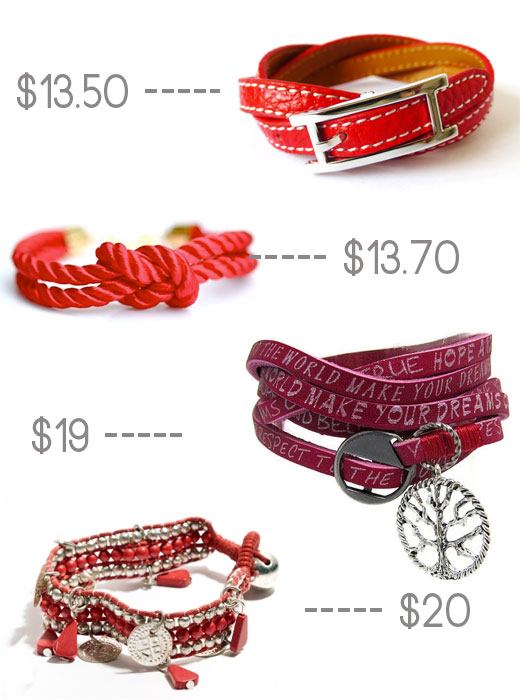 Wrapped Leather bracelet
$13.50 by Perfect Wear at Etsy.
Knot bracelet
$13.70 by Doble Ele at Etsy.
Leather Wrap Bracelet Berry Red Hope and Believe
$19 by Lemonberry Studios at Etsy.
Coin bracelet
$20 from Seven.
Gold Square Enamel Bracelet
$16.99 from Target.
Colorblock Enamel & Silvertone Hinged Cuff Bracelet
$16.95 from NY and Company
Medium Rhinestone Bangle
$17.49 (sale price) from Juicy Couture
Equestrian Ornament Stitch Leather Bracelet
$29.80 by Dasandra & Co at Etsy.