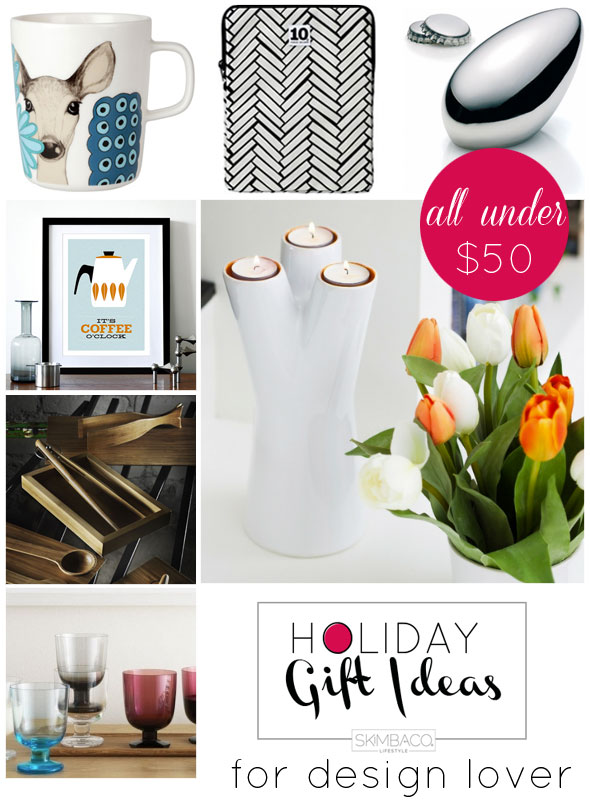 Note: We use interactive images – click on the product info and links in the photo.
Design gifts on a budget
What is great design? Great design is beautiful, functional, and high quality.
Typically with the high quality design comes a high price tag, and it makes it often difficult to find affordable Holiday gifts for design lovers. Don't be alarmed just yet, like in good design – sometimes less is better. Here are 7 functional modern design gifts for any design lover for less, and all under 50 bucks. Many of the gifts are unisex, or suitable also for those hard-to-buy teens or college students, or make a great gift for a co-worker in the office.
1. Kaunis Kauris deer mug by Marimekko
($22)
Kaunis Kauris mug by Marimekko
is a beautiful mug, a perfect gift for a design-lover co-worker to keep on her desk. The mug was designed by Sami Ruotsalainen, and it's part of Marimekko's Oiva dinnerware collection. Finnish design brand Marimekko know has an online store in the US as well, making it super easy for you to shop for this and other design gifts this year.
2. iPad Cover by 10-Gruppen
($44) iPad Cover by Swedish 10-Gruppen is a necessity of modern times. The same bold prints can be found on iPad and laptop covers, and also on phone covers/pouches. Great gift for dad, grad, teen or stylish mom.
3. Sagaform Upside-Down Vase/Candlestick Holder
($39.95) The
Sagaform Upside-Down Vase/Candlestick Holder
also from Sweden is a design object with two functions: it's a candle holder that turns into a flower vase by turning it upside down. Get it for your girlfriend for Christmas and you'll know she'll always have a vase to put those flowers you'll keep (or start!) buying her. Perfect also for office, small apartments or even college dorm, great inexpensive design gift for co-worker, college student or a special friend.
4. Nuance Bottle Opener
($19.99) The
Nuance Bottle Opener
looks like a water drop, and is elegantly designed and a beautiful object on its own – but at its best opening a refreshing cold drink. Design from Denmark.
5. Poster print
($29) If you can't get the design object.. get a picture of it, right? Posters and art prints are a great option for inexpensive gift items for design lovers, and I am particularly fond of the prints by
Yumalum
on Etsy, check out the vast collection, all under 30 bucks.
6. Design House Stockholm Bamboo Accessories
($19.95 and up) The entire
Design House Stockholm's
bamboo collection makes excellent gifts for anyone who likes great design and cooking or entertaining. The cutting boards serve both as cutting boards and serving trays.
7. Iittala Lempi glasses
($32 for two) One of my favorite purchases this year has been the Lempi glasses designed by Matti Klenell for Iittala. They make a perfect gift for almost anyone. They stack and go well even in smaller kitchens, yet they are high quality, high design, and go from everyday table to dinner parties. Two of the clear
Iittala Lempi Glasses
is $32 making it an inexpensive gift and you can start collecting design for someone you care about.
Read all of the
Holiday Gift Guide
posts and stay tuned for more from all of our writers.