Featured Skimbaco Trendspotter on Pinterest: Jenny Ford
Did you already hear about our
trendspotters on Pinterest
? We have teamed up with several amazing people around the world to give their unique voice to what's in and happening in several locations around the world. You have probably already seen their pictures on the
Skimbaco Pinterest boards
. We will start featuring our Trendspotters on Pinterest also here on our site so you will get to know our experts a little better. Our first featured Trendspotter is an old friend of Skimbaco, Jenny Ford of Sugar Loco and Monkey-Toes. If you have been reading Skimbaco Lifestyle for a long time, you might remember how Skimbaco used to be an online store and
I delivered some products from our store to Tom Cruise, who was so nice that mentioned one pair of adorable ladybug shoes to his old friend OPRAH on the Oprah show
. Long story short — the adorable shoes were made by Jenny Ford, and today Jenny still makes adorable shoes but also has an amazing website dedicated to desserts called
Sugar Loco
.
Interview with Jenny Ford
Katja: Jenny, we are so excited to have teamed up with you again with something new and exciting. Congrats on your new venture since we have done business together the last time. Sugar Loco sounds… yummy! Tell us about Sugar Loco. Jenny:
Sugar Loco is a website dedicated to dessert. Not only do we give shout outs to our favorite products relating to dessert, we post delicious recipes, and review desserts in restaurants. Sugar Loco has 12 contributors, in states across the US, seeking the best desserts in their cities too.
Katja: Sounds like a fun gig to have – testing desserts around the USA. What's your personal favorite dessert? Jenny:
Oh my gosh! I've had so many beautiful dessert experiences it TRULY is hard to pick favorites, but let me give it a go… 1) Dessert & Craft Beer Pairing at the Vail Cascade Hotel in Vail, Colorado – it's really amazing how a perfectly paired beer can bring out the flavors of a dessert, my favorite pairing was the
White Chocolate Cheesecake & Unibroue La Fin du Monde
, even after a year I'm still dreaming of this dessert. 2)
Artisan Bacon Doughnuts from Second Home in Denver
– One of the most unique and flavorful doughnuts I've ever had. Chef Bolton is a genius turning everything swine into something sweet in this dessert, even the caramel dipping sauce is made from bacon. 3) Last, but not least.. On a trip to Dallas I of course had to have dessert after sushi at Steel, being a skeptic of desserts at sushi restaurants I was blown away by their
Chocolate Maki Roll
– so much fun to eat and so delicious to bite on.
Katja: What are some of the trends for desserts and sweets that you recommend checking out? Jenny:
I'm seeing a huge trend in liquor infused desserts –
margarita cupcakes
& margarita caramels, bacon is still going strong, and bite sized treats – which give you all the flavor, but only a bite of dessert commitment.
Katja: Sugar Loco's team is currently featuring (and pinning) desserts in most major cities – which city has been your favorite to explore so far? Jenny:
By far our most popular cities have been
Denver
& Phoenix. I have weekly dessert tastings with restaurants around Denver, I'm so blessed! But what is even more fun is going on "Dessertcations", a word I made up, but says exactly what it is – dessert vacation. I found that hotels and resorts have some of the best pastry chefs and treats out there, yet people don't really think about that when booking a trip. I really like to show our readers, and foodies, all the sweet options they can find if they go with particular resorts, it really sets the resorts apart.
Katja: If you could travel anywhere in the world to eat sweets, where would you travel? Jenny:
Oh my gosh! Can I say Europe as a whole?? Instantly I think about
Italy
…Eating my way through Italy. Then I think about all the deliciousness
France
would have to offer too, such fresh ingredients and amazing flavors. Oh and don't forget the wine all over Europe!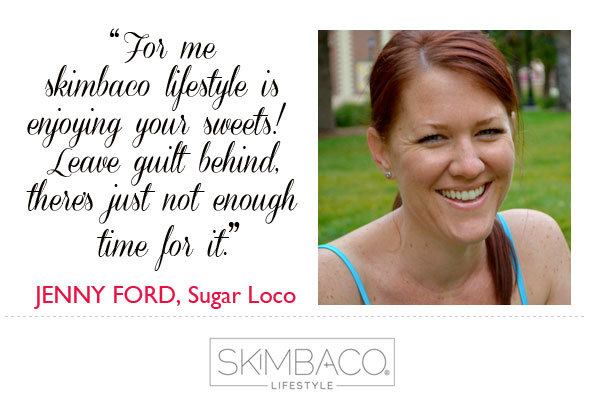 Katja: What living Skimbaco Lifestyle, living life to the fullest means to you? Jenny:
Taking time to enjoy your sweets! Leave guilt behind, there's just not enough time for it. People ask how I eat dessert all the time without gaining a ton of weight, I guess I don't really know, except that I really try to enjoy it and not feel guilty. Maybe it's the power of positive thinking along with just enjoying the moment that I'm in. I do enjoy bites of dessert every day, so I don't ever deprive myself.
Connect with Jenny and Sugar Loco:
Sugarloco.com
Sugar Loco on Facebook
Twitter:
@Sugar_Loco
Sugar Loco on Pinterest
Jenny on Instagram