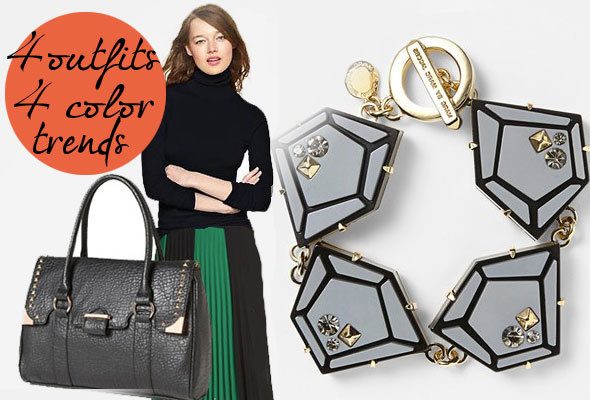 Fall is fast approaching! Now is the time to start focusing on your fall wardrobe. Color plays an integral part in fashion no matter what the year or season. We look to Pantone's Color Report, the global authority on all things color, to find out what colors are trending in women's fashion. Each year, Pantone selects ten colors for both the spring/summer and fall/winter seasons. They base their decision on careful, up-close examination of top designers' runway shows. Here, I've created wearable looks around my four favorite Pantone colors for Fall 2013 starting with Emerald, Pantone's Color of the Year for 2013.
Pantone describes this top color as, "a lively, radiant, lush green." Emerald can be worn with other jewel tones like amethyst or sapphire for rich, colorful look. Or bring out Emerald's brilliance by pairing it with black. Pleated maxi skirts, like this one in Emerald and black, are popular this year. Touches of hardware, as seen on this satchel and booties, are trending again this fall. Look for softer tones in hardware with rose-colored metals, though gold hardware is still on trend. The versatile and cozy turtleneck is making a big comeback this fall and winter. And what outfit doesn't look more stylish with a piece of statement jewelry like this Tory Burch cuff? Allow the cuff to stand out without competition from other pieces and wear simple studs. Deep Emerald-colored studs by Kate Spade add just a touch of color, glamour and glimmer.
Turbulence, a dark grey neutral, is versatile and a refreshing alternative to black. Wear Turbulence with vibrant colors like Koi, Emerald or Acai or go for a neutral and classic look by combining Turbulence with brown or cognac. A J. Crew tunic sweater in Turbulence with cognac leather pockets is not only on trend for its color but for its leather accents, a big trend for fall. Wear it with faded denim skinny jeans, booties in a Turbulence hue with straps around the ankles, a bold, masculine watch and a unique statement bracelet. A cognac tote bag will be a surprisingly useful piece in your wardrobe. There are few colors that don't look great with cognac.
This warm orange color has fall written all over it! Go bold in this modern color with a figure-flattering dress by Trina Turk for a professional, office-friendly look. A statement color, Koi looks best worn with cool neutrals like Turbulence or warm neutrals like the rich khaki of this trench coat and leopard patterned pumps. Gold toned accents like a stack of gold bangles bring out the depth of Koi while accessories in brown shades like tortoise shell sunglasses and cognac satchel complement and soften Koi's brightness. Stay away from black when wearing Koi. It's too harsh.
Acai, like Emerald is a jewel tone. It's exotic, rich, and regal. Look glamorous in an Acai gown for a formal occasion or put together a chic Acai look for a night out on the town with girlfriends. Tone down fashion forward Acai track pants with cool neutrals and pastels like this soft grey moto jacket, the season's hottest jacket trend, grey metallic heels, a lilac blouse and silver-toned earrings. Add a fun and colorful clutch to complete the look. Do you have a favorite Fall 2013 Pantone color? Which hues will you be wearing this season?