Food truck rodeos are the latest culinary craze that lures thousands of hungry eaters in one spot to taste cuisine sold from, well, you guessed it, the side of a truck. There is nothing fancy about that, but some of the dishes served from these trucks could easily be served in a five-star restaurant. Yeah, some are that good.
I've attended a food truck event in my hometown of Raleigh. The event was so popular that the event closed before I could even get some homemade ice cream from a local creamery. I stood in line for a half hour for just one sandwich. I didn't even love my sandwich, but I could certainly see the appeal in the event, especially when you eat mouth-watering food that you can't find elsewhere.
The luxury hotel chain The Four Seasons wants to get into the fun, too. It is the first hotel chain to launch its own food truck tour.  The new FS Taste Truck will travel 1,000 miles this fall, visiting seven cities and three states. From Palo Alto, California, to Santa Fe, New Mexico, the truck's route will cover a total of seven cities with eight Four Seasons hotels and resorts playing host in each location.
The participating properties will take over the truck in their respective destinations for one week, executing a series of events as well as mobile menus inspired by their cities. From popup parking-lot parties to stops at prominent landmarks and chef competitions that celebrate regional cuisines, the food truck's journey will provide movable culinary delights for you to enjoy in each city.
For example, the Beverly Wilshire, A Four Seasons Hotel will have the truck
October 7-13, 2013,
making stops at Downtown LA Art Walk on October 10, Abbot Kinney in Venice on October 11, Santa Monica Food Truck Alley on October 12 and the Beverly Hills Farmers Market on October 13. Executive Chef Gilles Arzur lead THE Blvd team in creating a custom menu consisting of traditional anticuchos (grilled meat on skewers), beef hearts, ahi tuna, grilled octopus, beef and carrot cromesqui, steak salad, salmon salad, and chocolate Rodeo Cronets, pictured above. Let's just not count calories, shall we? The FS Taste Truck tour also benefits a good cause. Following its completion, a portion of the total proceeds of the tour will be donated to
Chefs to End Hunger
, a charity that works with hotels, restaurants, and food service operations across the country to redistribute excess prepared food to those in need. I think it all looks like a lot of fun, and it makes me fall in love with the luxury hotel even more. I already drool over their food and drink shots on Instagram. Each hotel has come up with its own creative ideas for events to be held when they are hosting the truck, and the agenda looks dreamy.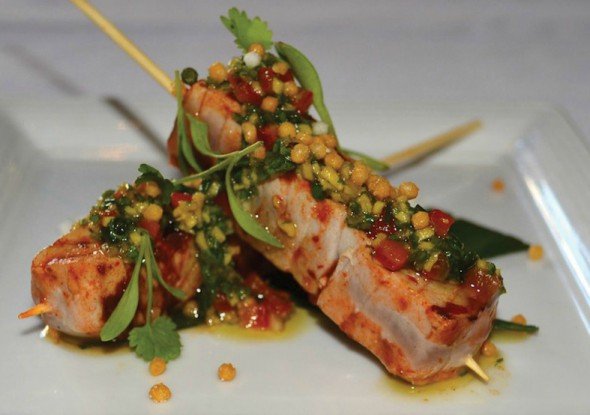 The FS Taste Truck will be in Palo Alto, California all week.  It debuted at a charity event 
 to raise money for the SF Giants Community Fund.  Guest were served ballpark inspired cuisine that night such as short rib sliders, ahi sliders, sweet potato fries, garlic fries and bomboloni – the Quattro chef's interpretation of the Churro, complete with a Lavazza Espresso Bar. Sounds amazing.  For the rest of the week, the FS Taste Truck, will serve items modeled after the Quattro menu.  All items are priced at $8. Desserts are $4. I think I would be happy to just follow the FS Taste Truck around on its tour. 
Here is where the FS Taste Truck will be next.
September 23-29 – San Francisco, California September 30 – October 6 – Santa Barbara, California October 7-13 – Beverly Hills, California October 14-20 – Los Angeles, California October 21-27 – Westlake Village, California October 28 – November 3 – Scottsdale, Arizona November 4-10 – Santa Fe, New Mexico
Photo credit: Leigh Powell Hines, and Beverly Wilshire, Four Seasons Hotel, and Four Seasons Palo Alto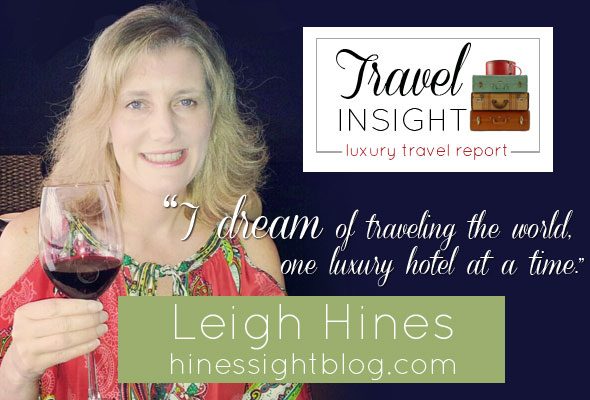 I live like a tourist in my hometown and my dream is to travel the world one luxury hotel at the time. If you love traveling as much as I do,
subscribe to Skimbaco Travel
, and never miss any travel content from our site.