The signature bag
There are a few kinds of bags you want to have.
The trendy bag
that you see trendsetters using, and you just have to have it. Then every designer makes their own version until you can get a copy of the original in every single color and from every single store and for every single budget, and it's appealing to have it, just to have it, but at the same time, the "it" bag is sort of ruined because everyone has a version of it. Or
that classic designer bag
that you saw your aunt using when you were a kid and you swore "one day.." you would have the same bag when you had
The Job
and the paycheck to buy it. And then you grew up and realized your aunt didn't have children and you can never-ever afford the designer classic, and feed your three kids too. Then there is the bag that is unique and ultimately become
YOUR signature bag
, because people will remember the bag, and you will realize this one bag pretty much goes with almost everything you own. (And sometimes it doesn't, but you want to tell yourself that it does, because you just want to use the bag, every day.) I've had bags in all of these categories (the expensive designer bag…? My aunt actually gifted one to me!) and the one that is almost most difficult to find is the right signature bag, but once you do – you will have it forever. You might take some breaks using them, because you want to preserve them (or you fall in love with a new bag, hey, all is allowed when it comes to love for bags), but you will not get rid of them. A few of my signature bags over the years have been gifts, or my friends have almost forced me to buy them because well, they just look like "me" and sometimes it's easier to see that for your friends than for yourself. Maybe part of a good signature bag is also the story that it comes with and maybe the best signature bags are gifts, hand-me-downs, flea market finds or treasures you find from travels.
The Jenny Bird bag from Red Envelope with B&W printed maxi-dress from T.J.Maxx, RL Rugby knitted black vest, orange loafers from Italy, weaved belt and cheap Forever21 scarf.
My new signature bag: Jenny Bird leather weaved canteen bag
My new signature bag is the
Jenny Bird leather weaved canteen bag
, and it was love at first sight. I saw the bag in a press event in Chicago this summer, and I just KNEW I had to have it. I literally hugged the bag when I saw it and petted the soft suede leather and I could already imagine the stories this bag could tell
after
it had been traveling the world with me. I wanted to take the bag for around the world with me, that's how badly I wanted the bag. I saw this bag with me… strolling the cobble stone streets of Europe, trying some whiskey in Ireland, getting on a boat to some distant island, watching horseback riding in the countryside in Sweden, eating pizza in Italy, in a party in New York City…
Oh, I am seeing an Instagram photo series here – what do you think?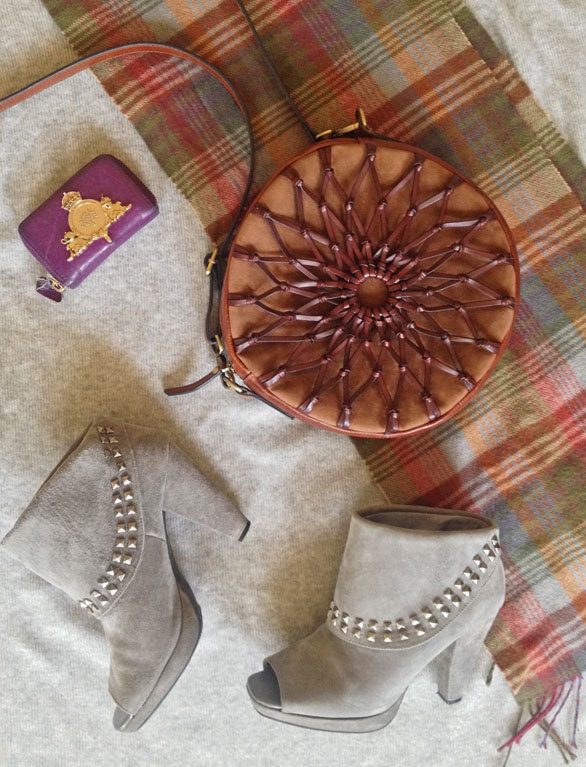 Jenny Bird bag with classic Mulberry scarf, long gray cashmere coat, Mulberry wallet (my signature) and old Kenneth Cole Reaction booties.
I wasn't really kidding that the Jenny Bird canteen goes with everything in my closet. It was the perfect summer bag and was perfect with all of my maxi-dresses and leather sandals. Now when autumn is here – it still goes with everything in my closet. From army-style jackets to classic sweaters, from odd shoes like my orange loafers from Italy to my boots for walks in the woods.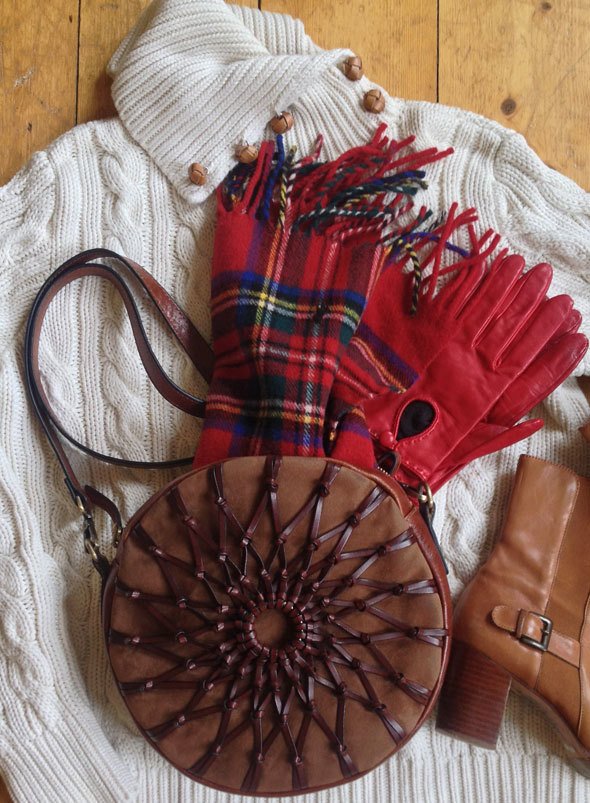 The Jenny Bird bag with a few of my other signatures that I keep going year after year – white cable knit sweater, plaid scarf, red leather gloves and high heel boots. Yes, I wore a cable knit sweater and similar scarf already in 1985, but who cares? That's why it's called a classic signature look.
I honestly saw this bag at first just with the trendier looks, Jenny Bird is one of the trendies up and coming designers after all, but I have been surprised that it really goes well with the classic looks as well, and it really is so easy to just take along and be the one last thing that makes any outfit perfect.
The Jenny Bird bag with jeans & army jacket, Pajar hiking boots, ikat scarf.
I think above all your personal style is all about finding what you are comfortable with and combining classic looks with trendier pieces. I do believe that investing in signature pieces and what you can wear a year after year is the way to go, and I don't believe in chasing the next trendy piece. Unless it's as versatile as my new Jenny Bird bag, and it can be both for you – the trendy new addition to your wardrobe and the classic piece you can have forever.
Do you have a signature bag?
Disclosure: I received the bag as a gift from Red Envelope, a company I adore as much as I adore the Jenny Bird bag. If you see me traveling this year – you will know that I wasn't kidding about taking the bed around the world with me, and that my love for the bag is the true kind of love.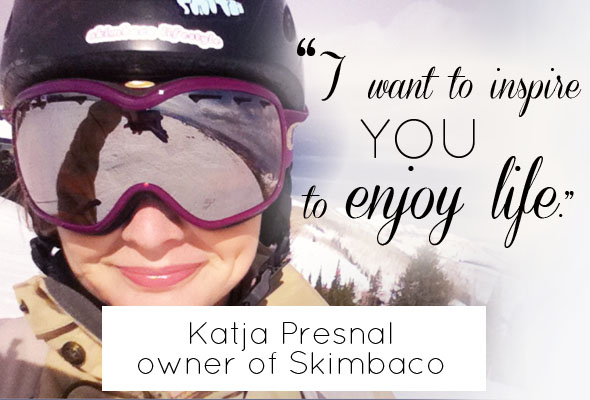 My mission is to inspire you to live life to the fullest and find your own "skimbaco," how you enjoy life where ever you are in the moment. For ideas for travel, home, food and fashion,
subscribe to weekly Skimbaco Lifestyle
feed on Mondays and
I hope you get my newsletter as well
that I sent out sometimes on Fridays.