Holidays are often times synonymous with cookies and in Winston-Salem, North Carolina there's no exception. A longtime holiday tradition, the Moravian cookie is considered to be the holiday staple of this North Carolina town. Rightfully so since it is are the epicenter for the Moravian cookie, baking more than a million pounds of dough each year! Some hardcore culinarians might say that making the Moravian cookie is one of Salem's greatest accomplishments, garnering worldwide fame and affection (Oprah has named them among "her favorites".)  We think Winston-Salem is famous for a lot. It's also the home of Krispy Kreme doughnuts. We
visited the Moravian Cookie Trail earlier this year.
 and were so impressed on how these cookies were made. Historic Old Salem is beautiful during the holidays.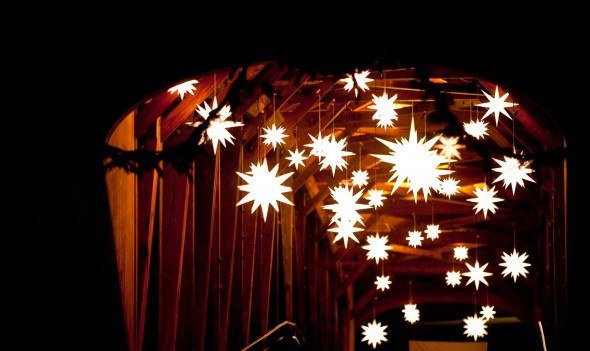 In North Carolina,  you will always find a holiday gift basket with Moravian Cookies in them. It's one of the state's biggest sellers.  Check out my
holiday foodie gift ideas
for North Carolina products. Or you can whip up your own cookies at home.
Original Moravian Cookie Recipe
(It's recommended to cut the recipe in half)
3/4 cup butter and lard or shortening, mixed 4 tablespoons ground cinnamon 3/4 cup brown sugar 4 tablespoons ground ginger 1-pint black molasses 1 teaspoon salt 7 1/2 cups sifted flour 1 tablespoon soda 4 tablespoons ground cloves 1/4 cup boiling water To make cookies: Cream butter and lard with sugar. Add molasses. Sift flour with spices and salt. Add soda to boiling water. Add flour mixture and soda water to creamed mixture. Work well with the hands. Cover and store in a cold place overnight, preferably longer. Roll to infinite thinness on board. Bake on greased cookie sheets at 375 degrees, for a very few minutes or just until they begin to brown.
Be sure to check out the
#OutaboutNC family-friendly travel guide to Winston-Salem and Old Salem.
Photos courtesy of Visit Winston-Salem.