Surprisingly, I think many entrepreneurs can recognize parts of the story as their own. 
If you already read the Big Rich Money book or took the Big Rich Money e-course, you probably already know why we chose a golden balloon dog as the book cover. 
But in case you didn't, here is the full story. 
Story from the book Big Rich Money: How To Turn Your Business Intentions Into A Profitable Company
Candice's Big Rich Money Start
"One idea I had was to make a large amount of balloon animals at home, put them in a wagon and wheel the wagon door to door to sell pre-made balloon animals. My balloon dogs and giraffes were of the quality a birthday clown could make, but as you can imagine the idea of pre-made balloon animals was not one that garnered any kind of excitement to people minding their own business at home in the middle of the day, even though my prices were also childishly low. 

Little did I know that not long after that, an artist named Jeff Koons would become a multi-millionaire by making giant balloon animals. I actually had a great idea, it was just my execution that was lacking." 
There is so much to unpack about this story, but the most important lesson is that the execution is always more important than the idea itself, and if there is one lesson you remember from Big Rich Money, we hope it's that one. 
See, Candice could have continued with the balloon dog idea and become successful. 
She could have tried selling for a new target audience, and instead of already making the balloon animals, she could have sold it as a service for birthday parties. Maybe a neighbor owned a toy store, and they could have hired her to make the balloon animals on Saturdays as a fun event at the store. 
But Candice just thought it was not a good idea and quit. 
But it's OK, she was only ten years old, and she got her business success later on, and this was a great learning experience for her. 
In the Big Rich Money book, we will go through different ways:
How you can test your idea is sellable.

How do you know you reach the right target market.

How to price your product right.

How to keep going, even when things get tough. 

How to look at things from new perspectives and turn your business around.

Why execution is always more important than having a great idea (even though that is important too!)

And much more! 
What was your first entrepreneurial idea? 
Did you too sell something door-to-door in your neighborhood? 
Did you try to sell your drawings or something you picked from your yard, like flowers or apples (like I did)? 
Or did you have a lemonade stand?
That's not really an uncommon story, right? 
But what if you had kept going with your original idea? Do you think you would have figured it out how to make it a profitable business?
Jeff Koons and the Most Expensive Balloon Dog in The World
Artist Jeff Koons started at a young age, and his balloon dog story is the opposite of Candice's balloon dog story. A mega success. 
Jeff Koons started his artistic career around the age of nine by copying famous artists, signed them with his name. He didn't have to go door-to-door but his dad sold them in his furniture shop. 
He kept going with his art, studied at the Maryland Institute College of Art, moved to Chicago to learn from the best, and then in 1977 started working at the Museum of Modern Art in New York City selling memberships.
He worked, networked, and he got involved with the East Village Art scene. 
He did not give up. 
And then he learned about making money. He worked selling stocks and mutual funds for the First Investors Corporation and then for Smith-Barney. He used the money he made selling mutual funds to finance his first bigger exhibition works. 
But it still took a few years (and 9 years after his college graduation) that his art finally was getting major media attention in 1986.
Today, he is the most expensive living artist, and known for his balloon animal sculptures. 
His orange balloon dog sculpture sold for $58.4m at Christie's in 2013, setting a record at the time for the most expensive work by a living artist to be sold at auction.
What's interesting about his artwork is that he questions what really is fine art. Critiques hate to love him, and he gets equal amounts of admiration and disgust. His art pieces can look cheap or even childish but are extremely expensive. His techniques or objects are not unique, quite the opposite. One of his early works was a vacuum cleaner in a display box. 
But this marketing and positioning him as the artist who brings shock value and arguably always stands out has worked for him big time. 
And it has made him one of the richest living artists in the world. 
The way he has executed his artist career by creating wacky, simple, shiny objects, is at the same time laughable and genius. Many can have an idea of selling balloon dogs, but there is no other person in the world who has made as much money doing so as Jeff Koons. 
Mistake Entrepreneurs Make: Not Understanding the Difference Between Idea and the Execution.
There are several stories of entrepreneurs with brilliant business ideas, but when you think of many brands, they don't actually offer a new groundbreaking innovation, but they have just positioned and branded themselves a bit differently. 
Big Rich Money is based on answering some of the biggest deadly mistakes entrepreneurs make and the most important is entrepreneurs not separating their business idea from the plan for how to make their idea a reality. 
It's easy to come up with business ideas ("start a cooking YouTube channel"), but it's a skill to turn them into profitable businesses (sponsored brand partnerships for the YouTube channel with cookware companies). 
There are always multiple ways to sell, package, or market exactly the same kind of product or idea, and your business success does not just depend on your excellent idea but on the excellent execution of the idea. 
Let's look at a simple example. 
Business idea: to bottle water and sell it. 
Think about how many different bottled water brands there are! Some are viewed as "high-end" due to the artistic design of the bottles. They are sold to high-profile consumers. Some brands are inexpensive, and some can be delivered right to your home. Some bottled water companies only bring water to businesses, and their large containers are not available for consumers. 
These companies are all selling almost identical products, but they are each doing it in very different ways. They are executing the idea of "selling water" in different unique business models, branding, and most people can see how they are different from each other, even though ultimately they all sell water. 
''Ideas are cheap, execution is everything'' said the former

Shark Tank

shark, investor Chris Sacca. 
Many amazing ideas have not turned into profitable businesses because of poor execution, and plenty of mediocre ideas have turned into extremely successful businesses because they are done well. 
"Collect smooth rocks," became "sell smooth rocks in a cardboard pet crate as MY PET ROCK." Now that is some genius-level execution!
Is collecting rocks an amazing idea? No. Everyone has collected a rock or two in their lives.
Is selling PET ROCKS for $3.95 each in 1975 an amazing idea? Yes!
Creator Gary Dahl made $15 million dollars selling My Pet Rock in just 6 months. 
Any idea with a GLORIOUS execution is guaranteed to be profitable. 
Execution is Always More Important Than the Idea.
Even if your idea isn't perfect yet, you can bring your product or service to market in a way that captures attention and makes sales. When your product captures the attention of a small core of people, they can become a valuable source of feedback, giving you valuable information and the opportunity to perfect both your idea and your execution.
Sometimes the opposite happens. Your initial idea can be excellent, but for some reason, it just doesn't come to life as you hoped, and you need help in executing your excellent idea.
There are many things that can go wrong in the execution process of the idea, for example: 
The product/service is not manufactured/made well.

The price point was not right.

The product was sold in the wrong place.

The right customers never even heard about it.
Learn more about this, and much more from the Big Rich Money book and the e-course.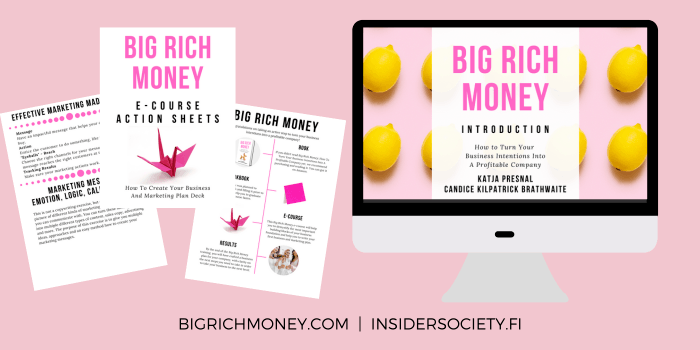 More About Big Rich Money
Big Rich Money: How To Turn Your Business Intentions Into A Profitable Company book
is a transformative entrepreneur's guidebook that leads you on a discovery of how to elevate your business and life. The book demystifies money blocks, entrepreneurial mindset, branding, strategy, marketing, production management, and building sustainable business models.
Get goal-achieving secrets and practical business tools from world-renowned business and marketing consultants.
If you've already read the book, enroll for the Big Rich Money e-course now. 
Learn how to:
Avoid the most common mistakes business owners make.

Build a business foundation that makes it easier for you to reach your long-term goals and make everyday execution easier.
Our Big Rich Money Content Marketing Matrix helps you to create an effective marketing strategy that gets you results for years.
Big Rich Money was created by Katja Presnal (that's me!) and Candice Kilpatrick Brathwaite, who pioneered social media marketing in the 2000s. In the past 15 years, they've consulted Fortune 100 companies, helped to launch startups, and received marketing awards like American Advertising Awards. They've helped large brands build online communities, launch digital media platforms, and create viral campaigns. All while working from home with children and living in Asia, Europe, and the United States. 
Buy now:
Big Rich Money: How To Turn Your Business Intentions Into A Profitable Company book or e-book
Big Rich Money e-course
Also in Finland in Finnish! 
Big Rich Money: Miten Tehdä Yrittäjän Unelmista Kannattavaa Liiketoimintaa kirja 
Big Rich Money verkkokurssi suomeksi
.