The American Museum of Natural History in New York is a great place to take kids! There is so much to see though, that I don't recommend even trying to tackle it all at once. And if you have already seen their exhibit once or twice – check out their special programming. Here are some of the March happenings listed. I would love to take kids to the Night at the Museum Sleepover – doesn't that sound like fun?!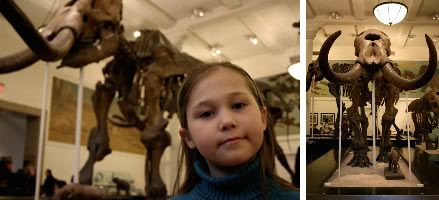 American Museum of Natural History Children's Programs for March 2010
A Night at the Museum Sleepovers
Friday, March 26, 5:45 pm – Saturday, March 27, 9 am $129 per person, $119 members Lights Out! Kids between 7-13 years old can meet live animals such as hawks and falcons; participate in arts and crafts projects like origami making; watch an IMAX movie; check out the Butterfly Conservatory; listen to bedtime stories; and explore the Museum with only a flashlight in hand. The fun ends by sleeping under the whale in Milstein Hall of Ocean Life, beneath famous dioramas in the Hall of North American Mammals, or among the geological formations in the Gottesman Hall of Planet Earth.
Wild, Wild World: Predators
Saturday, March 27, 11am–noon and 1–2pm $10 adults, $8 children; Members' tickets are $9 adults, 7$ children Get an up-close look at a Golden Eagle, python, and bear cub in this special live-animal presentation featuring wildlife expert Andrew Simmons.
Global Weekend: From the Motherlands to El Barrio: New York's Latino Immigrant Experience
Saturday and Sunday, March 20 and 21, 1–5 pm Free with Museum admission Through performances, interactive workshops, conversations, and films, this family-friendly event focuses on Latino communities in New York City while drawing parallels between immigrant experiences throughout time. Highlights include performances by the Coatlicue Theater Company, which will weave part of the Mayan creation story with stories of migration; Los Pleneros de la 21, a leader in the resurgence of Puerto Rican traditional music in New York; Samba Nation Productions, will bring rhythms of Brazilian Carnival; and Tahuantinsuyo, a pioneer folk music group from the Andes.