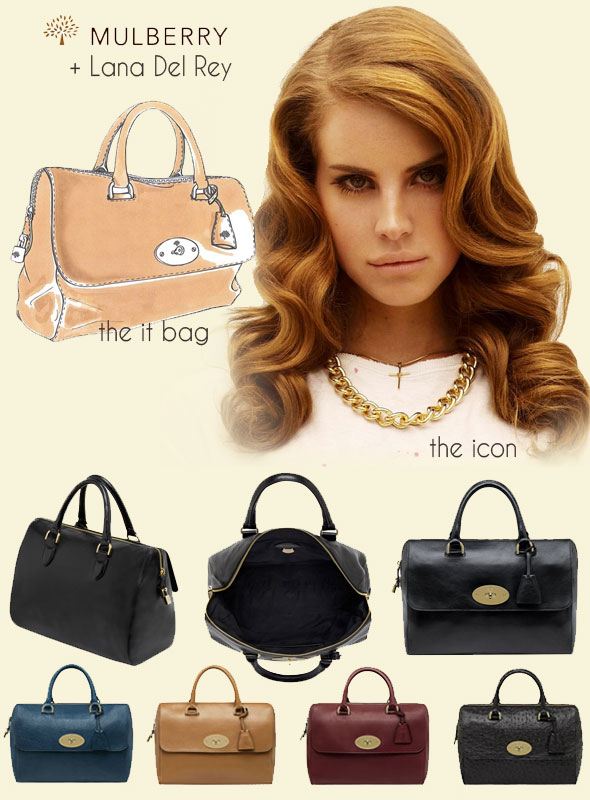 The New IT Bag: Mulberry Del Rey
I'm in love with the
Mulberry Del Rey bag
, inspired by the gorgeous soulful singer Lana Del Rey. The elegant handbag is the perfect mix of old world glamor and sophistication and contemporary minimalism, just like Lana Del Rey herself. Click on the icons on the photo above and watch how the Del Rey is made, as the handbag transforms from pieces of leather and metal into the newest IT bag. The "how the Mulberry Del Rey is made" video includes Lana Del Rey's "Summertime Sadness", and I also added "Blue Jeans" as a track for you to enjoy.
The bag launched in May as part of the Mulberry A/W 12 collection in four colors: Deer Brown Grainy Print, Black Forest Soft Matte, Black Soft Spongy and Petrol Veg Tanned Lambskin leathers. For fall Mulberry added four new finishes: Gold Metallic Snake Print, Ink Blue Sparkle Croc Print, Bark Brown Metallic Fur Print and Black Ostrich. Now, only if there wasn't a waiting list, and the bag didn't come with the high price tag.. but a girl can dream, right? That's what living life to the fullest is all about.
FASHION FRIDAY I'm linking up for Fashion Friday at
All Things Chic
. Want more fashion? Subscribe to
Skimbaco Fashion feed via email
.