Leigh Hines
Lives:
Raleigh, North Carolina, USA
Skimbaco expert topics:
travel, resorts & hotels, luxury travel, luxury for less travel, staycations, traveling with children.
Featured column at Skimbaco Lifestyle:
Travel Insight
.
Leigh's own blog:
Hines-Sight Blog
Contact:
leigh.hines(at)skimbaco.com
with North-Carolina event invitations, luxury travel and hotel/resort pitches and product review requests.
Connect:
INSTAGRAM
|
TWITTER
|
FACEBOOK
|
PINTEREST
Professional background
I am a graduate of the University of North Carolina at Chapel Hill and started my career as a TV news Journalist. Later, I went off camera and worked in Communications, Public Relations, and Marketing. In 2005, I took on a new career role, at the age of 37, called motherhood. My choice to be a stay-at-home mom eventually led me to nurture my passion for travel and storytelling in a new way. I started the Hines-Sight Blog in 2011 and began writing luxury travel for Skimbaco this past summer. I have finally found the perfect job for me.
Location
I am a Carolina girl. I have lived all over North Carolina and now live in Raleigh with my husband and two children.
Visit Leigh Hines of Hinessightblog.com's profile on Pinterest.
Learn more about Leigh!
What do you love about where you live now?
I joke that I need a sash that says
"Ambassador for the State of North Carolina."
It is a gorgeous state that can give visitors both an urban and a rural setting within a 20-minute drive. Our mountains are majestic, and our coastline is serene. Bald Head Island is my most favorite place on earth. It is only accessible by ferry, and the minute you step on the island, you are on a coastal paradise. I also adore the artsy mountain city of Asheville, North Carolina, home to the Biltmore Estate. Asheville is a unique, funky, natural playground with a huge dose of luxury.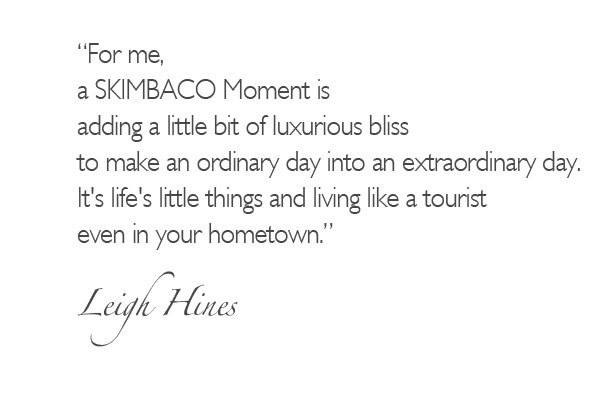 Your best Skimbaco moment?
Dining in small, intimate neighborhood restaurants on the left bank of Paris I experienced one of my best Skimbaco moments. My love for truffle oil truly began in Paris. Or having afternoon tea in a luxury hotel, and enjoying a scone and devonshire cream. My four favorite tea experiences have been in Victoria, B.C, London, Atlanta, Georgia and Chapel Hill, NC. The South can do tea. I think most of my Skimbaco moments include indulging food in a luxurious destination.
Your ideal travel destination?
Truthfully, I believe every vacation is perfect as long as I love my hotel or my rental home. Yes, I plan my trips based on where I want to stay, then the rest falls into place. My ideal vacation would be Europe. I have a particular fondness for England and Germany.
Do you like to eat in or out? Your favorite restaurant?
Since my dad was in the restaurant business, I support local. I'm casual in my everyday life, so I adore a brew pub with outstanding food. For entertaining in my own home, I like to keep it simple so I can enjoy my guests. I am known to make a very good banana pudding. Would you expect anything else from a Southerner?
How does your ideal home look like?
My ideal home is a Tudor-style house on a tree-lined neighborhood street, but in an urban setting where I could walk to my favorite neighborhood eatery or local market.
How do you define Skimbaco Lifestyle? What it means personally to you?
Skimbaco means living life to the fullest in everything I do. I write about luxury travel here, but I don't live the lifestyle of jetting around the globe every minute. Instead, I'm living a normal life in Raleigh, but you can bet I live like a tourist in my hometown.
What do you dream of?
I do dream of traveling the world, one luxury hotel at a time. I think every hotel has a story, and I want to tell it. I wouldn't mind being back in front of the camera, too. Print doesn't always capture my true personality. It is also my dream to see my kids grow up and travel with them as adults, too. As an older mom, I realize time is precious; that is why I live my life to the fullest every single day.