Welcome our new writer Caitlin Covington of Southern Curls & Pearls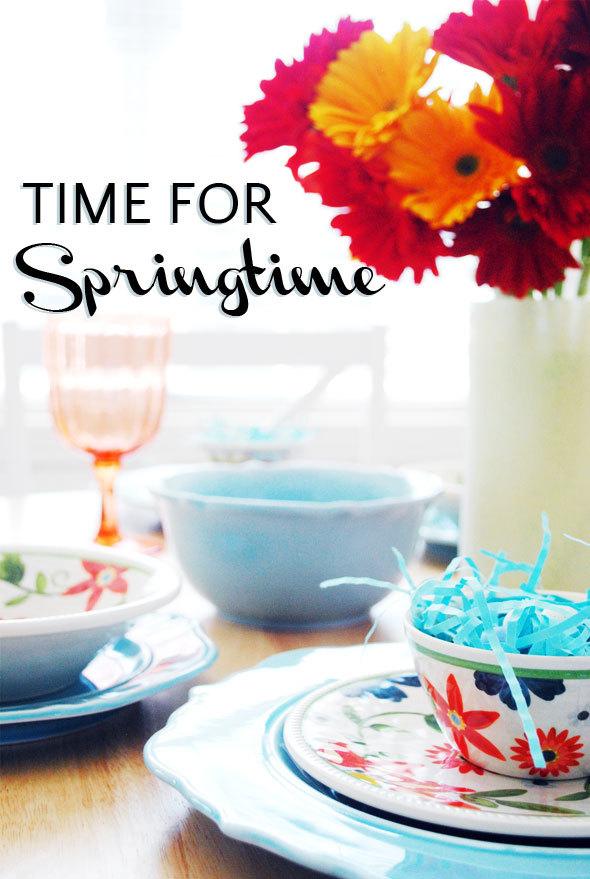 It's Time for Springtime
My debut post for Skimbaco couldn't be more fitting for the beautiful spring weather we've been experiencing lately in South Carolina. With the arrival of sunshine and blooming flowers each year, I always start getting excited for Easter. For me, Easter evokes memories of flowery sundresses, colorful plastic eggs and my grandmother's Sunday brunch. What could be better than time with family and a belly full of sweet potato casserole and deviled eggs? I can think of only one thing: Gramma's table settings! Although no table settings could ever match the sentimentality of Gramma's antiques, they can be equally as beautiful. This spring I had the opportunity to set my 
own
Easter table, courtesy of Target.
When I saw these baby blue scalloped dishes, I knew I wanted them for my Sunday table. (After all, Carolina blue is my favorite color – go Tar Heels!) I ended up pairing these blue dishes with a set of gorgeous floral melamine plates and bowls. The great thing about these dishes is that the possibilities are endless! You can mix and match to your heart's content. I also love that the floral plates are made out of melamine – they are dishwasher safe and virtually unbreakable. Perfect for those who can be clutzy sometimes, like me! To incorporate Easter into this table setting, I also picked up some crinkle grass and Cadbury mini eggs from Target to create a "nest."
And with all the bright tableware in Target right now, I'm not lying when I say that I was really tempted to bring home every single item they had in the store. Luckily I had some self-control and managed not to buy everything. Unfortunately, my willpower isn't so strong when I'm around these Cadbury chocolate eggs. See the bowl full of chocolate eggs, above? Well, these barely lasted three days in my house. Oops!
Inexpensive Easter table setting inspired by Gramma
To purchase these items, just click the links below. After perusing their dining section for an hour and a half, I'm confident Target has everything you need to set an Easter table. Even Gramma would be proud!
Scalloped Dinnerware Set in Aqua
Roped Vasaio Floral Dinnerware
Paneled Ribbed Goblets
Small Yellow Sandblasted Vase
Add fresh flowers and your Easter table is set!

Disclosure: Compensation was provided by Target via Glam Media. The opinions expressed herein are those of the author and are not indicative of the opinions or positions of Target.