When I began planning my recent trip to Paris, a high school graduation gift to my stepdaughter who has been taking French classes since she was 13-years-old, the easiest part was choosing where to stay.
Hôtel Caron de Beaumarchais
is my favorite boutique hotel in Paris, having stayed for a week in October of 2010. Stepping into its charming, Baroque-inspired lobby is like stepping into the past with its 18th century décor of embroidered cushions, a harp, candelabras, and chandeliers.  Even the resident regal Scottish Terrier, Bobby, adds charm and character to this one-of-a-kind boutique hotel.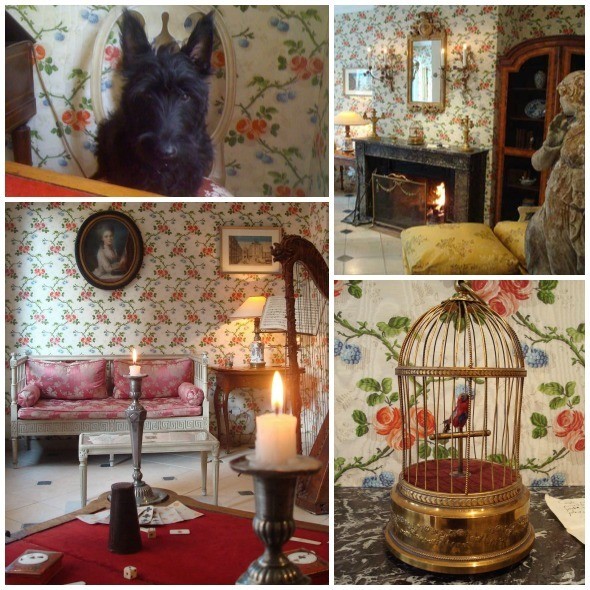 The hotel is named for the playwright, watchmaker, arms dealer, musician, spy and financier, Pierre Augustin Caron de Beaumarchais (1732 – 1799) who lived just up the street from the hotel. He is perhaps best known for his plays, 
Le Barbier de Séville
,
Le Mariage de Figaro
, and
La Mère coupable.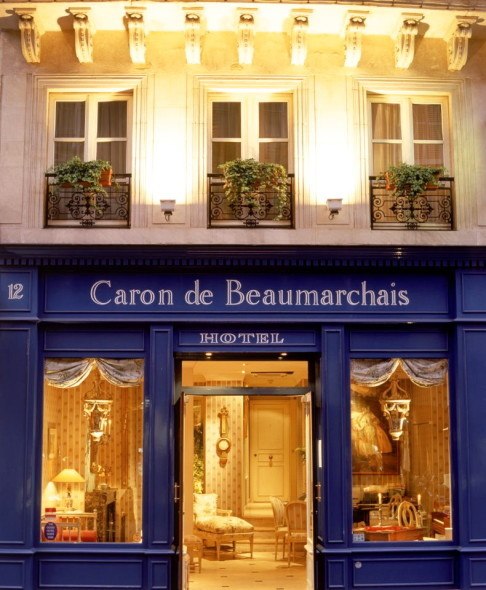 Beaumarchais also played a key role in providing munitions and money to the American army during the American Revolutionary War. He negotiated the supply of ships and gunpowder to George Washington from his home near the hotel. He was one of the first French supporters of the Americans in that war, risking his reputation and spending his own money to aid the Americans and their cause.
Inside the hotel, the rooms are elegant, though on the small size by American standards. While you will not find large dining tables, couches, wet bars or walk-in closets in the rooms, you will find everything you need to make your stay enjoyable including free wi-fi, soundproofed rooms, satellite television, small refrigerator and air conditioning. The staff is friendly, welcoming and helpful. When we made online reservations to go the summit of the Eiffel Tower, a staff member happily fulfilled our request to print out the tickets from her front desk. Each morning, we had fresh, hot coffee delivered to our room, served on a wicker tray with a pitcher of warm milk. Fresh coffee in bed was a great way to begin a long day of sightseeing.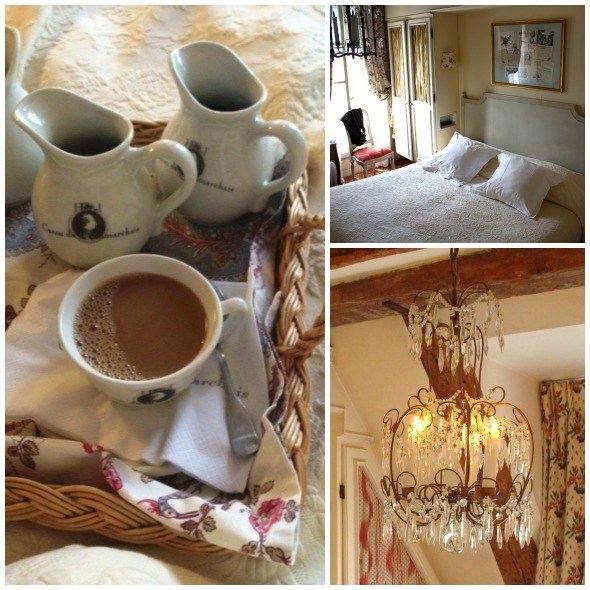 Both stays at Hôtel Caron de Beaumarchais were in street-facing rooms. The first time, we had a lovely patio with a French café set so we could sit outside. weather permitting, and enjoy our coffee and breakfast, or wine with locally purchased cheese and a baguette.
We spent a good portion of our time in Le Marais, the neighborhood where the hotel is located. Having been to Paris four times in the last five years, I can say without reservation that it is my favorite in neighborhood in Paris. Hôtel Caron de Beaumarchais is located in an ideal location within Le Marias. It's close to St. Paul and Hôtel de Ville metro stations, a leisurely 10 minute walk to Place des Vosges, and a stone's throw from a variety of international cuisines, boutiques, bakeries, bars, friperie shops, tea rooms, and museums.
Our favorite thing to do was to go out into the neighborhood each evening, after dropping our new purchases off at the hotel and freshening up, and find a sweet treat to eat. Gelato, macarons, crepes, and pastries are all just short walk from the hotel's door.
Hôtel Caron de Beaumarchais Review
On my next trip to Paris, I will stay at Hôtel Caron de Beaumarchais. With the ideal location, reasonable rates, charming decor, friendly staff, and clean, quiet rooms, I wouldn't dream of staying anywhere else!
HÔTEL CARON DE BEAUMARCHAIS 12, rue Vieille-du-Temple 75004 Paris Tel : +33 (0)1 42 72 34 12 – E-mail : hotel@carondebeaumarchais.com