I have lived in four countries and in seven states in the USA, and grew up spending my summers on a boat. However, I have never lived on the beach, and it is one of the dreams I have that I still haven't made true. One of these days I hope I can live by the beach, even if it's just temporary, like the most of our addresses have been. Seaside home decorating has always been close to my heart, and at least I can have items in my home that remind me of the sea even if I don't live on the beach. I am still in process of moving in to our new home (yes, we moved again, and it's something not like anything we've ever lived in before), but hopefully soon I can show a few pictures from our new home, including some seaside inspiration that I always incorporate in my home. My personal favorite beach accessories for home are the seashells and small drift wood we have been carrying home from our travels. A large conch sits on the top of my fireplace in my office, and I have vases filled with seashells. Sometimes I drop good smelling essence oil to them to make them even smell more like the ocean. Flea markets and antique stores are also great places to find vintage oars, roap-pulleys and other nautical items. Often the prices just tend to be too high, but I have collected a few treasures like that as well. If you want to inexpensively get started with some beach style decor in your home, may I recommend starting small and starting with your coffee table? Beach style decorating can easily go overboard (I think I did go overboard at some point, let's just say that I don't have the lighthouse shaped key cabinet nor the oars as curtain rods anymore), so start with your coffee table and perhaps the fireplace mantel if you have one. Here are some of my finds from
One Kings Lane
, they are having a great seaside accessory sale going on right now. Please click to their site to see the low prices and all of the current sales they have going on. You will have to join in as a member to shop, but the membership is free and you can
join anytime
. After becoming a member of One Kings Lane (remember, membership is free), you will gain access to a host of sales with different themes, like the seaside accessory sale they have right now. When you find what you're looking for, act quickly! All of One Kings Lane sales don't last for long and items sell out quickly. Just a warning – it might get addictive to check the site everyday for great new items arriving!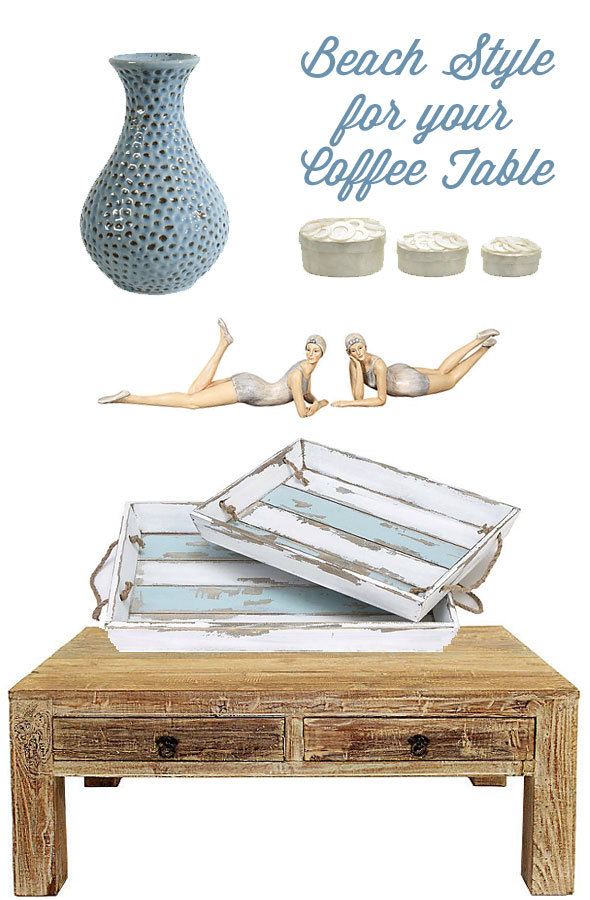 One Kings Lane
is a members-only-online marketplace for the home that brings members exceptional value on a spectacular collection of top-brand, vintage and designer items. One Kings Lane was the first in the home industry to introduce Flash Sales (in 2009), Tastemaker Tag Sales in 2010 and Movie Set Sales and Estate Sales in 2011 and you can truly make some unique finds from their site that fits your home decorating budget. Designer and HGTV's star Emily Henderson has partnered with One Kings Lane to host an exclusive video, "Secrets From a Stylist", that walks you through her recommendations on how to style up your coffee table, including tips for using different elements, shapes, and texture to create a unified look for your coffee table, see the video below.
This article is sponsored by One Kings Lane but it's true, I love coastal decorating style and the beach.