I got my hair chopped for a good cause and I will donate it so it can be made to a wig for someone who has lost her hair due cancer treatment.
I heard that there are hair salons around the country who will cut your hair for free when you donate it for a charity, but I wasn't that lucky. I was a bit nervous when I stepped into Blue Wave hair salon in downtown Durango, but was creeted with admiration of my mission, and I knew I was doing the right thing, and I was looking forward the haircut. The fashionable part of me was also very happy after reading all the latest hair fashion magazines and websites – the short hair is in, and I would be just joining into the crowds like Katie Holmes, Liv Tyler and many other celebrities and style icons, who have cut their hair short just recently.
I chose to send my locks to Beautiful Lenghts, they work together with American Cancer Society, who distributes the wigs made out of donated hair to women who have lost their hair due cancer treatments. There are several other charities to choose from if you are interested in donating your hair, but this was the best for me.
So… are you ready for pictures of my hair donating day and the end result…?

Little nervous, but ready to have the long hair cut off!



The hair must be on ponytail when making the cut – my hair was so thick it was divided into three.



So instead of one ponytail, I was actually able to donate three ponytails!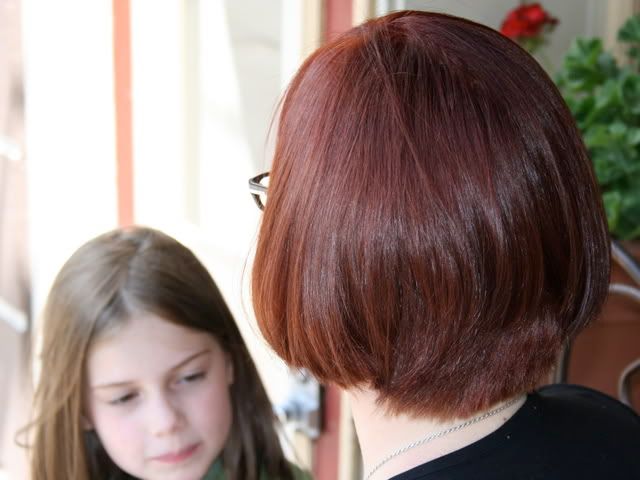 Yes, all that hair is gone in the back!



I had some shorter layers in the front, which actually became the longer front for my new hair do!
I feel so good I did it, and I don't think I'll regret it.
Yes, I did it!