Bird photo: Tuchodi
Fall colors: grey & red
Birds are still trendy in decorating products, and this fall the colors from birds are also in. The different shades of grey are in and great to combine with warmer colors like red to bring depth and contrast.
Materials
This fall is all about contrast also in the materials. Combine new and old, shiny and rough. Homes that look like things have been collected over time are much more homey and inviting than those that look straight out of the newest catalog with everything matching. Everything doesn't have to match. Try it this fall: combine stainless steel or galvanized products with rough wooden products. Mix warm and cold materials to get an instresting mix for the changing season. This trend is eco friendly too.
Birds and trees
The natural elements in mateials but also in the inspiration in home decorating has been trendy for a long time, and not going away. Birds and trees are still trendy this fall – and even more so for the next spring (get the birds now and add some bird nests and decorative eggs next spring). Also feathers in decorating are coming, we have already seen them a lot in clothing.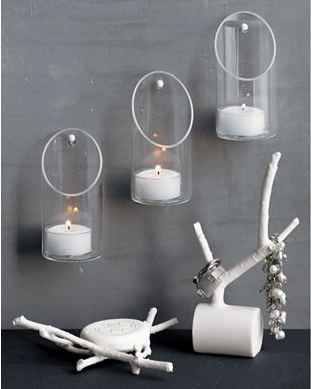 I love the
ring holder
and the soap dish from CB2, and how it has the rustic form from nature, but painted in white to give them a nice contrast already. And the trendy grey on the wall – I love it!
Wall decals are so easy and inexpensive to change the look fast! I like the above
cherry blossom tree wall decal
.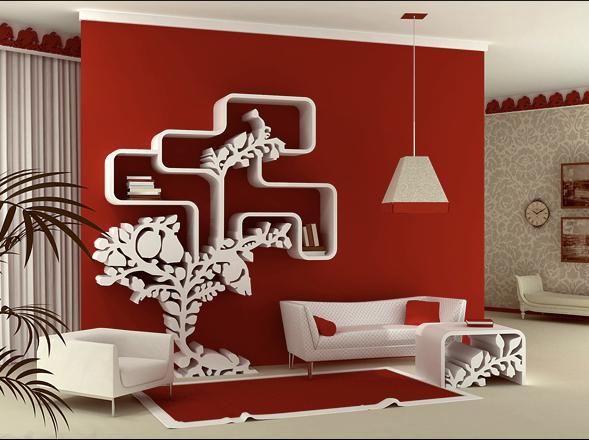 Russian designer Maria Yasko created this red room with the amazing tree-inspired wall shelving. If you can't find a carpenter to do that for you, you can just get the small Snow Bird-shelf also by Maria Yasko, made under Marisko trademark.

My design inspiration for this fall comes from a very Finnish fall time scene; birds eating berries in trees which are dressed in the bright colors of the fall and the rocks on the ground still wet from the rain before.