I had an opportunity to fly to Dallas two weeks ago to test the new Nissan Murano CrossCabriolet. This sporty new car is arriving to dealers in April and it is some sort of hot news in the car industry; Nissan Murano CrossCabriolet is the first all wheel drive crossover convertible. The Nissan Murano Cross Cabriolet is a Murano like the name says, it's body is like Murano crossover, higher up and equipped with all-wheel drive for all-season all-weather driving; it's part SUV, part AWD, part convertible sports car in a nicely packed package that made people turn their heads and stop us for questions while we drove around sunny Dallas. The main target market for this new type of car is coastal climates, and it makes a perfect California car from driving it from the mountains to the beach. I can see the Nissan Murano CrossCabriolet to appeal both women and men, it's a fun car that provides the luxuries of leather seats, the push-of-a-button convertible roof and the 3.5-liter V-6 engine was purring nicely under the hood. However, according to Nissan marketing research the car has gotten more interest from women buyers so far.
The Nissan Murano CrossCabriolet looks more like a compact car, because it has four seats and it's convertible, but when you drive it, you can feel the difference. I don't have a SUV and at first it felt a little weird to sit up so high in the CrossCabriolet. Once I got used to driving it, I loved sitting up higher and seeing everything so well. The seats in this car are incredibly comfortable, and they come in nice soft leather. I can see this a fun road trip car for couples. The trunk is pretty spacious for a convertible; it can hold two golf bags, four boxes of wine, groceries for family of five plus some, and easily gear for one baby. It can hold weekend luggage for four if no big souvenirs are bought or no sports equipment included. The biggest difference to other convertibles besides the obvious all-wheel drive and crossover body, is the legroom on the backseat. There are only two seats in the back, which is a minus for families, but a big plus for those who would like to have their adult friends to come for a drive too – the backseat was very comfortable with lots of room, and with the added height and all, the Nissan Murano CrossCabriolet backseat passengers will enjoy the drive even if it's a long one.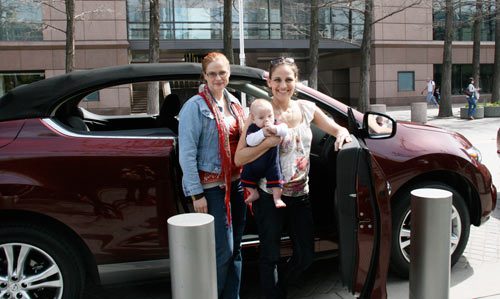 But speaking of families.. To me personally this type of car would not work as of now – I need a car that fits three kids, dog and a ski rack on the top, but I can see myself wanting something like Nissan Murano CrossCabriolet when kids are older, and driving on their own. I had an opportunity to test drive the car with
Christine
and her baby Timothy, and we all loved how easy it was to buckle the baby seat on the back – while standing in the car! No roof and there was so much legroom on the backseat that it made it super simple for Christine to jump in the car and buckle Timothy's car seat. The next test was putting the stroller in the trunk, and the Murano CrossCabriolet scored on that one as well.
It got a bit too loud when driving on a highway with all of the bridges above us in Dallas, and we had to put the roof down for Timothy. It was super simple; we didn't even have to get out of the car, it was as easy as pushing a button down until the roof was down. But it was simply loud because of driving in high speed under overpasses, the car itself was super quiet. In fact we were asking each others a few times "is this car on?" because you could not hear a thing when the engine was running. It almost felt like driving a hybrid, and it was a big difference from my Volvo.
I've never owned a convertible, so the easy-use convertible roof was probably my favorite feature, but there are other nice convertibles too. What really stood out in the Nissan Murano CrossCabriolet were the interior features. The leather seats come in three colors; beige, black and camel, and is matched with exterior color (certain color exteriors have certain color interiors and you can't mix and match). The car comes equipped with heated seats, so you can enjoy the convertible year round in some climates and added months in the colder climates too.
Some of the specs of Nissan Murano CrossCabriolet 2011: Engine: V-6, 3.5 liters, 24v Fuel Economy, City/Hwy: 17/22 mpg Cargo Volume: 12.3 cu ft Base Price: $46,390
My trip to Dallas was paid for, but my time was not compensated for. My opinions are my own.