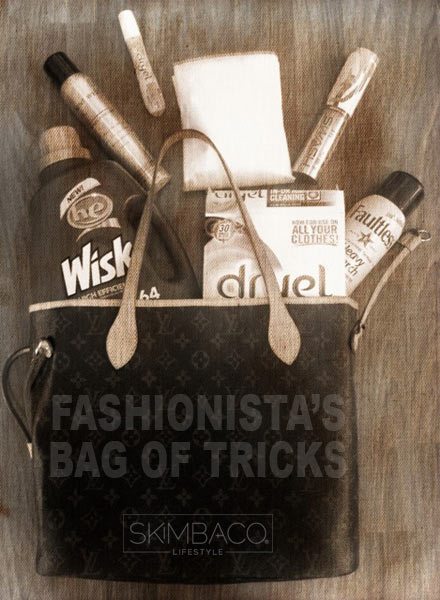 Clothing Care Tips
When it comes to clothing, I rather buy less pieces and better quality instead of cheaper quality and more clothing. I like designer clothing, and I much rather buy timeless pieces that I can wear for several years, than something that screams this season. Don't take me wrong, I love trying out new things and looks, but I tend to stick to my own style, rather than jumping on every seasonal trend. And when going trendy – I rather purchase jewelry and other accessories than clothing that screams "in now, out next month". I like to think it's more ecological too, and I just couldn't bare myself tossing clothes after each season. T
his said, it is important to know how to take care of the clothes so they indeed are an investment that you can keep for years.
Here are my top 10 NON fashion products every fashionista must have to take care of the clothes! Note: these products are not eco-friendly but they will eliminate going to dry cleaners for good and will save you time and money! And ultimately if you take care of your clothes and are not buying new ones all the time, it IS eco-friendlier than buying new clothes all the time. I tried featuring an eco-friendlier alternative for some of the products, but there isn't one available for some of them.
10 Clothing Care Products to Have
1 -2. Whirlpool Duet Washer & Dryer
I love front load washers for the ecological reasons (less energy & less wash detergent needed), but the fashionista in me likes them because they will keep clothing looking better for longer. Read my
Whirlpool Duet® washer & dryer review
at Skimbaco Home. Eco-friendlier solution: don't use dryer for clothes, but air dry with clothes line. Especially good for any clothing you typically need to iron.
3. Young Living Detergent
Once I started using
Young Living Thieves washing detergent
, and have never looked back. It's the most eco friendly clothes washing soap I have ever used, and the washing power is so good – I even get coffee stains of my clothes, and as a latteholic fashionista (who occasionally is sloppy) that's important to me. Good news is that you can use also use Thieves washing detergent in HE or normal washer. Young Living Thieves washing detergent is concentrated and you don't need much of it, so overall it is a great eco-friendly choice too.
4. Waterproof Spray for your shoes and handbags
The waterproof spray is not all that eco-friendly… but I usually buy the
waterproof (or weather proof) spray
for my shoes from shoe stores, and I use the one from Nine West or Timberland, but other shoe and footwear care companies make it as well. I spray all of my new shoes and handbags, and also some clothing (like leather jackets). The spray keeps the water and dirt away and keeps the shoes and bags looking better for longer. Also, I'm lazy and don't have time to shine my shoes, and this does the trick for not needing to do it often. Once a former co-worker of mine sprayed an entire white fabric couch with this stuff and it survived next to dining room and a toddler boy, and I have been a believer of waterproof spray ever since.
5. Thieves spray as instant stain remover
The instant stain remover in a stick is another brilliant innovation for fashionistas on the go – but most of them are full of chemicals. So these days I carry a small sized Thieves- spray bottle and it works for stain removal on-the-go.
6. Swash Smooth it Out / Spray Bottle
Tide makes Swash Smooth It Out Spray that is great for "spray & hand ironing" clothes on the go or when traveling. It also eliminates odor and it's a fast way to re-freshen your clothes. Eco-friendly solution: use spray bottle and water for lightly wrinkled clothing. Spray water and use your hand to "iron" out the wrinkles.
7. Starch
When growing up, I was not used to using starch at all, and when I found it as an adult, I was so excited. I tend only buy 100% cotton, and while I love it, it wrinkles easily. Also, using starch eliminates the need to take all of my clothes to dry cleaners, because I can make them look almost as good at home. A trick that I learned from a jewelry designer friend – use starch also for jeans to make them last longer looking sharp. I try to starch my jeans especially for trips. No eco-friendly idea for substituting starch.
8. Dryel In-Dryer Cleaning
The Dryel In-Dryer Cleaning bag and washing clothes are awesome. You add the dirty clothing in a bag, add the moist concentrated "wipes", zip it close and throw the bag in the dryer for 30 minutes and you'll get clean clothes. It works OK for large stains, and works excellent for clothes that require dry cleaning, like silk, cashmere etc. Just make sure you have the temperature setting for low for delicate fabrics. This product has almost entirely eliminated the need to use dry cleaners for my clothes.
9. Needle and Tread
This should be common sense but I think we easily forget the basic skills in our busy lives. Save the extra buttons from your clothing, and use needle and tread to fix minor holes or to sew missing buttons. You can also get one of the
best sewing machines
, to fix bigger holes and other issues. Yes, it is that simple to keep your clothes looking better for longer.
10. Enough Closet Space and Good Hangers
The way you storage your clothes matters. Especially the clothing hangers. Buy good quality hangers that are thick and don't leave marks in your clothing. Especially for blazers and jackets you'll need heavier hangers. Also, buy separate trouser hangers to hang pants well. This will eliminate ironing time and keep your pants in better shape for longer. Don't hang your sweaters nor your t-shirts, they will wring out and start looking droopy.
I have received some of the products mentioned here as a free sample, but all of my opinions are my own.