Katja Presnal, Lifestyle Expert & Marketing Strategist
Owner and Founder
of
Skimbaco
lifestyle brand and editor-in-chief of Skimbaco Lifestyle online magazine.
Owner of Presnal5 marketing agency.
Best-selling author of the Big Rich Money
book and e-course.
Co-founder, talk show host, and co-owner of Crush Movement,
an equality-focused media and event company in Finland.
Founder of Insider Society
entrepreneur community. American Advertising Award-winning
Marketing Strategist.
Former
Community Director
of social shopper marketing agency
Collective Bias
, has done social media marketing strategy for clients like
Colgate
,
ConAgra
,
Philips
CoverGirl
,
Abbott
and
Hershey
. Respected
Keynote
Speaker
in corporate events and conferences around the world. Available for:
Partnerships, blogging and events.
Marketing and Business Strategy consulting.
Marketing campaign strategy and execution together with Skimbaco Lifestyle.
Keynote speaker.
Read some of the old Press Katja Presnal has received.
International Lifestyle Expert & Lifestyle Blogger
Katja Presnal is an editor and founder of
SkimbacoLifestyle.com
online magazine. She inspires people to live life to the fullest, and finds silver lining in everything with her witty yet positive attitude. Katja was also a
Home channel editor at LifetimeMoms.com
where she wrote about anything home related from buying a home to decorating it.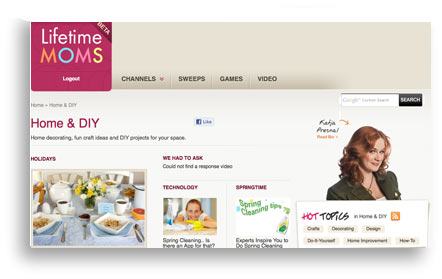 Skimbaco Lifestyle and Skimbaco Home were partially syndicated (and translated) in Finnish and available under MTV3, the major TV Network in Finland in 2010. Skimbaco and MTV3's partnership resulted in phenomenal traffic on the Skimbaco's Finnish blogs, and press mentions in over 20 Finnish major mediums, including TV, radio, blogs, websites, newspapers and magazines.. Katja is known for her Instagram expertise and her Instagram account Skimbaco is Fodor's recommended travel account to follow.
Katja's first ebook
Instagram as your Guide to the World – How, What and Who to Search and Follow on Instagram to Help You Travel the World
published in May 2013 and the foreword was written by the New York Times Best Selling author Chris Brogan.
Some of the travel destinations Katja has worked with are the
Le Méridien Bali Jimbaran
hotel opening in Bali,
river cruise in France with European Waterways
, two week trip to
Canada
with the Canadian Tourism Commission, and in an
Angry Birds-themed Finnair Flight from Helsinki to Singapore
. Katja has attended several events for example
Walt Disney Cruise Line's
Mommy Blogger Cruise to Bahamas, Inaugural Christening Cruise of Disney Dream, Frito-Lay's campaign launch with a red carpet event with Brooke Burke and Mel B.,
Academy Awards® Red Carpet with Kodak, U.S. Tennis Open, New York Fashion Week, Snowboarding Grand Prix
and interviewed several celebrities. Katja and Skimbaco Lifestyle has co-hosted the
National Mom's Nite out with Maria Bailey
twice in New York City. Katja has written for Type-A-Mom, and her home decorating posts have appeared on
Better Home & Garden's
website, and her home entertaining tips have appeared on the Redbook magazine among other national and international magazines. Katja Presnal was named as one of the
50 most powerful and influential women in social media
already in 2008 and continues to be named in Top Travel People to Follow on Twitter-type of lists. She was also named one of the Top 100 people from Finland to follow on Twitter by Yle, the largest broadcasting/media company of Finland. Some of the companies/brands Katja has worked as a blogger with:
Disney, Disney Cruise Line, SeaWorld Orlando, Better Homes & Gardens, Kodak, Ford, Hanes, Polarn O. Pyret, H&M, Ford, Kmart, Redbook magazine, Mexican Tourism Board
among many others. For blogging campaigns, partnerships and events, email
katja (dot) presnal (at) skimbaco (dot) com
.
Katja Presnal, Professional Bio
She is a seasoned PR, sales and marketing professional with e-commerce experience and one of the trailblazers in social media marketing industry, and an award winning social media strategist. Katja Presnal built her reputation by offering an
All-In-One Marketing Solution
in the children's fashion industry including
Online Store, Lifestyle Blog and PR Service
. The products she represented received national and international press, including a
product endorsed by Tom Cruise on Oprah Show
. Her unique position as a marketer and a blogger gives her the ability to understand social media from the influencer perspective as well as the marketer's perspective. Her talent is to see the needs of the consumer, the marketer and the blogger, and create strategies that bring them together and build advocacy. Katja held a senior management position as a Community Director for social shopper marketing agency Collective Bias, and spearheaded the company to set up the community processes as well worked as a social media marketing strategist. Katja tripled the size of their a social media influencer community Social Fabric, and created social media marketing strategy for agency's clients such as
Colgate, MurphyUSA, Philips, Abbott, CoverGirl, Ubisoft, Elmer's, ConAgra, Seagate, Smart & Final, Truvia. Several of the campaigns she was involved with won Addy Awards
. One of the most successful campaigns she designed and run (and won a Gold Addy for) was Hershey's Better Basket campaign, in which Walmart shoppers were encouraged to do charitable things during Easter time. She hired bloggers across the nation to donate Easter baskets for local charities. During the campaign a charity blog hop received 700 blog posts and resulted in Hershey donating $7,000 for the Children's Miracle Network and numerous acts of kindness. She also designed cause marketing campaigns Back to School with Purpose for DaySpring and Bag It Forward for Elmer's (also won an Addy Award) encouraging moms to take action during back to school time. She also created a strategy for Kmart's Outdoor Living campaign for summer 2011 which resulted Kmart being the #1 retailer of outdoor furniture in the US for summer 2011. To hire Katja Presnal to create social media strategy, email at
katja (dot) presnal (at) skimbaco (dot) com
.
"Navigating the digital marketing world isn't as easy as some people like to claim. It's takes community leadership, strategic marketing savvy and a passion for social media. Katja is an expert digital community manager and leader in social media. She is a respected speaker and group leader. I've enjoyed working with her and always learn from her well-rounded expertise and leadership skills."
Debba Haupert , Social Media Entrepreneur , Girlfriendology You can also read her professional profile at
LinkedIn
.
Public Speaker
Katja Presnal is a requested speaker about social media related topics, such as social media marketing, blogging, social media PR, community, and personal branding. She speaks in corporate boardrooms and large conferences, B2B, for bloggers & other social media influencers and in other educational events teaching corporate professionals about social media and personal branding.
Major Speaking Engagements:
– Jeff Pulver's Social Communications Summit, New York, 2009 – Blissdom Conference, Nashville, 2009 – Mind of Moms Summit, Bentonville, 2009 – Type-A Mom Conference, Asheville, 2009 – Presenter at BlogWorld & New Media Expo, Las Vegas, 2009 – Engage! Expo, New York, 2010 – Network of Executive Women event, California, 2010 – National Ski Areas Associations Summit, Orlando, 2010 –
Keynote
SoMeTime2010, Helsinki, Finland, 2010 – AffCon2010, Denver, 2010 – EVO Conference, Salt Lake City, 2010 – VegasKids trade show at Vegas Market, Las Vegas 2010 – Type-A Mom Conference, Asheville, 2010 – Blog World & New Media Expo, Las Vegas, 2010 – Engage! Expo, New York City, 2011 – Bloggy Boot Camp, Boston, 2011 – TBEX travel blogger conference, Toronto, Canada, 2013 – Social Media Week, London, UK, 2013 – TBEX travel blogger conference, Dublin, Ireland, 2013 – TBD-Italy at TTG / TTI Rimini 2013 Travel Trade Show, Rimini, Italy, 2013 – TBD-Italy at TTG / TTI Rimini 2014 Travel Trade Show, Rimini, Italy, 2014 – NMX, Las Vegas, 2015 –
Keynote
at TBEX Costa Brava, Spain 2015 – Differon Suurpäivä, Helsinki, Finland 2018 – The Shift Business Festival, Turku, Finland 2018 – Upea Ura, Helsinki, Finland 2018 She has been part of several internal conferences/events for large corporations such as Pepperidge Farm, PepsiCo, Colgate, McDonalds, MTV3 and Babycenter.com. "Social media expert and pioneer Katja Presnal delivers excellent food for thought. I particularly enjoyed her truly fresh, no hassle and ROI driven approach to mobile social media marketing at SomeTime2010 event in Finland. Would love to hear her speak again. Insight and experience ftw!" Christina Forsgård, Senior Consultant & Partner, Netprofile Finland Oy
Press
Read the Press Page
for press coverage. Scroll down for some referrals and examples of Katja's work. This list is just a small view to some of the referrals and campaigns Katja has done.
Subscribe to Skimbaco Lifestyle
to keep in touch.
Referrals & Recommendations
"As one of the founding members of the Walmart Elevenmoms program, Katja was both innovator and inspiration in development of the group. She is a catalyst for ideas with boundless energy and drive to make things happen. As one of the foremost leaders in the Social Media space, Katja brings a depth of knowledge and understanding of what really makes the medium work along with the true connections and relationships with key people in the space. I highly recommend Katja as an agent of growth in the industry."
John Andrews, Managing Partner of Collective Bias,
Former Sr. Marketing Manager – Emerging Media, Walmart Stores, Inc
"The Hanes Comfort Crew is a network of dynamic and prominent social media influencers who converse with Hanes about comfort, clothing, and community. Hanes went to great lengths to find the best and the brightest in the social media space and is honored to count Katja Presnal among the members of the Comfort Crew. Katja brings great insight from the perspective of a successful blogger on her "Skimbaco Lifestyle" outlet, an innate understanding of the mom community as the co-host of "National Mom's Nite Out," and an affinity for brands including her work as one of the original Walmart 11 mom bloggers. Hanes is grateful for the opportunity to work with Katja in this capacity."
Hilton Graham, Director of Digital Strategy, Hanes
"I have personally worked with Katja on a variety of social media outreach programs and I am consistently impressed with her intelligence and insight. Katja isn't just a great blogger, she understands the social web and how to create value for her partners. I am proud to have Katja as a member of the IZEA family and would highly recommend her to anyone seeking expertise in social media."
Ted Murphy, Founder/CEO of IZEA
"Katja has an excellent grasp of not only social media platforms but also how to effectively strategize, promote and handle the PR for her clients and for projects she chooses to support through her blogging. She is often a go-to person for ideas and outreach relating to social media. I highly recommend her."
Barbara Jones, Founder/CEO of One2OneNetwork.com
"I had the privilege of seeing Katja speak at the Mind of Moms Conference this past May. Her engaging presentation on navigating the social media space gave me my new favorite quote: "
Social media is an ocean. Learn to swim.
" Her insights on the blogging industry are relevant, compelling, and clearly stem from her personal experience. She has mastered many strokes among the murky waters of social media, even making the Periodic Table of Social Media Elements. Katja embodies the entrepreneurial spirit – from marketing Ladybug shoes to glamorously redecorating her entire bedroom on a $500 budget – all while caring for three kids. Katja and Skimbaco Lifestyle have been a tremendous asset to the Real Girls Network as a contributor to DivineCaroline.com and a smart representative for top tier advertisers."
Emi Hofmeister, Real Girls Media
"Katja is very knowledge and passionate about social media and moms."
Maria Bailey, CEO of BSM Media
"Because of her influential voice and social media presence, Katja is a key part of the Real Girls Network. Both advertisers and readers appreciate her creative, uplifting content."
Rebecca Weeks Watson, Director of Business Development, Real Girls Media
"Katja is a very passionate entrepreneur. We worked together on a sponsored campaign to promote her business on Boston Mamas and she was enthusiastic, quick to respond to inquiries, and really "got" (both from her experience as a retailer and social media enthusiast) how to effectively assemble a cool campaign that would be mutually beneficial to both our companies. It's been a pleasure to continue to work with Katja via other ventures as well."
Christine Koh, Founder and Editor, BostonMamas.com
> Katja Presnal is even mentioned in the Periodic Table of Social Media as one of the Social Media All-Rounders (These are the people you can find all over the Social Media landscape). Ron Hudson of Immediate Influence named Katja as one of the 50 Most Influential People in Social Media. Chris Brogan calls Katja microfamous. John Kim says Katja is in the top 10 Social Media People You Should Meet.
More Press
Getting Product on Oprah, with a little help from Tom Cruise
Tom Cruise showing Monkey-Toes ladybug shoes for Oprah. Monkey-Toes ladybug shoes were sent by Katja Presnal for Suri Cruise. Oprah Show with Tom Cruise aired in May 2008. Products placed in magazines, national and international. DeAnna Cochran Jewelry and Monkey-Toes shoes in the Australian version of
OK!
magazine. Over 50 blogs featured the story within a week of the show airing and several magazines and blogs afterwards.
Sauza Tequila Ads in REDBOOK, May & June 2011
One of the Sauza Tequila taste makers in the Summer 2011 advertising campaign in REDBOOK magazine.