Tyler Florence & Oscar Mayer Are Feeding America with Hot Dogs
America's favorite hot dog company Oscar Mayer teamed up with the Food Network's celebrity chef Tyler Florence to feed America. Literally – by giving away hot dogs with new Oscar Mayer Beef Frank Selects and by giving a $50,000 donation to Feeding America, the nation's leading hunger-relief organization. Watch my interview with Tyler Florence uncut from Times Square, New York City. Oscar Mayer Wienermobile has been part of American culture and Oscar Mayer's marketing for 75 years, and what's new this year, is their special edition Wienermobile Food Truck. The Wienermobile Food Truck was unveiled in New York City, with a help of celebrity chef Tyler Florence, who fittingly hosts a TV show
"The Great Food Truck Race"
on the Food Network. Thousand hungry New Yorkers gathered around Times Square, where Tyler Florence kicked off the Wienermobile Food Truck tour giving away hot dogs made with Oscar Mayer's brand new beef franks selects. This summer, the Oscar Mayer Wienermobile Food Truck will travel to 12 cities including Columbus, Detroit and Pittsburgh serving hot dogs.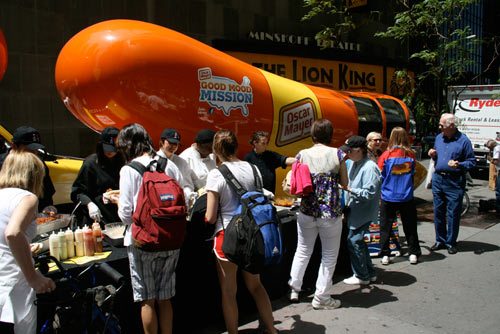 Want latest Wiener news or join Oscar Mayer Good Mood Mission? Check out
OscarMayer.com
and simply share a good deed that has made someone else's day a little better and be entered for a chance to win $100,000 to do even more good in your community.