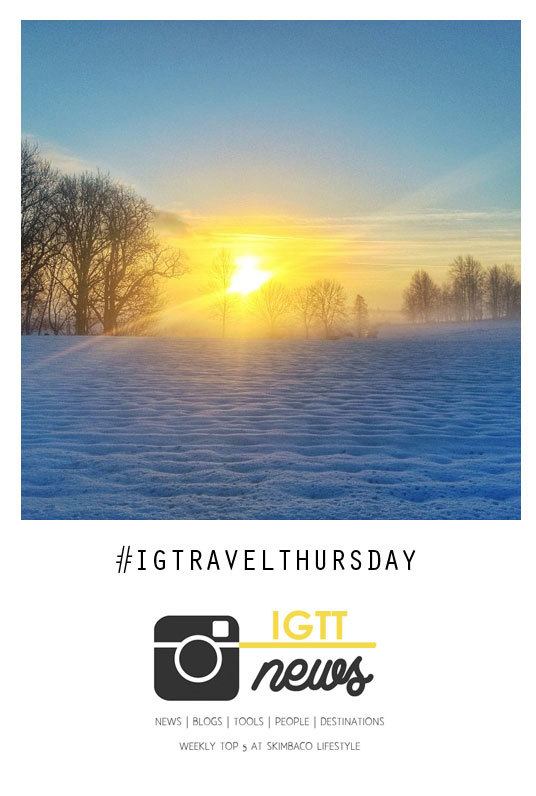 Hello from Sweden, from my backyard. I snapped the featured image on our driveway, on my way to take kids to school a few weeks ago. I saw the gorgeous sunrise at around 7:30 on the morning, and I was so happy to see it, that I stopped the car, rolled down the car window and took the picture. This is what I call a "skimbaco moment" in my day, a fleeting moment, when I can sigh and say "wow, this is my life" and be thankful for what I have. Seeing others' instant small moments is also why I love Instagram.
Instagram can be your travel guide to the world
, and you can find amazing places to visit, virtually or physically. I started
Instagram Travel Thursday
to unite travelers on Instagram and especially to draw attention to many travel bloggers who share their travel expertize and stories also on their blogs. But what I have noticed as I have fallen in love with the photos from many Instagrammers from around the world, and it's not always the "travel photos" I am drawn to. It's the photos people are sharing from their backyards, of their own countries, and in their own neighborhoods. The beauty when you are
searching photos on Instagram
is that you are able to see the destinations via travelers' eyes, but also via locals' eyes. The lines between a tourist and a local are blending as both the visitors and locals are using the same hashtags and location tags to post images. I just wrote a post how
I can tell the story of my home country Finland
differently as those who are visiting Finland the first time. The same way I can tell you much more about Sweden, than any travel expert who visits here for a week. Yet, when it comes to YOU actually planning your trip to visit any country, it is important that you hear the story and see the pictures from both angles. Locals can be blinded for many positive ("that sight is just for tourists, but I've actually never been there") or negative things ("well, we've always had that problem but you learn to live with it"), but they also have the experience ("instead of the tourist place, go here") and solutions ("the line/traffic/service is not bad if you go between 11-12"). Tourists see things in a new light and don't take anything for granted as locals might, but they also lack the experience of "local problem solving", if everything doesn't go as they imagined or planned. See where I am going with this and why it is great to be able to get your travel tips and ideas from both, the local people, and those who have perhaps visited the places only once for a short time? Both views are equally important. Very simple example: the Arlanda airport in Stockholm has excellent train connections to Stockholm city center and everywhere in Sweden, directly from the airport. I can easily take a train from the airport to our hometown Linköping. Well, easily, if I know that there are two kinds of trains leaving from two stations: the Arlanda Express that only goes to Stockholm, and the normal train service trains that go anywhere in Sweden. When I tried finding my correct train the first time, it was pretty difficult because I didn't realize there were two stations. Now when I have taken the train a few times, it's the easiest thing ever to hop on the correct train. So, while I travel quite a bit, and this spring I will be visiting Texas in the USA, Morocco, Portugal and Italy to name a few upcoming trips, it is still the pictures from my own neighborhood that are the most popular even on my Instagram stream. Is it that Sweden is the most beautiful country of them all, or something else? Maybe it is just the fact of finding beauty from your own backyard that gives others the inspiration to see their own backyard differently too.
My photos from Sweden
Follow me as Skimbaco.
IGTT Weekly Top 5
In today's TOP 5 IGTT news I am featuring 5 great Instagrammers who share pictures from their own "backyards" in Europe.
1. Featured Instagrammer in Rome, Italy
Diana travels around Italy (and she was just in Hawaii), but what I really like is traveling to Rome through her Instagram photos. Diana shares pictures that give an idea what it is to live in Rome, but also what to do when you visit there. Diana is
BrowsingRome
on Instagram, and also writes at
BrowsingRome.com
.
2. Featured Instagrammer in Granada, Spain
I met Daniel in Italy and we spoke a lot about photography and he told me about
some of his photos
from the years he lived in Thailand. I have been dreaming of visiting Thailand after seeing his incredible photos. Although… I might have to visit Granada, Spain, the first, because that's where Daniel lives now and posts these amazing pictures from. Follow Daniel as
CanvasofLight
on Instagram.
3. Featured Instagrammer in Twente, The Netherlands
What, you have never heard of Twente before? Well, neither had I before I met
VincentCroce
on Instagram, and now his moody countryside photos make me want to go to Twente and find some of that countryside peace.
4. Featured Instagrammer in Paris, France
When you want to travel to Paris, Carin,
ParisinFourMonths
, gives you the Paris-fix instantly with her gorgeous photos.
5. Featured Instagrammer in Ireland
Susan of
Vibrant Ireland
is one of the very best people to ask anything about Ireland. Her website is full of information, but she is also the nicest person to chat on Twitter and ask any questions you might have. For her photos from Ireland, follow
Susan_vibrantireland
on Instagram.
IGTT Traveling Linky
Read more Instagram Travel posts from these new blog posts this week and add your own blog post.

Not a blogger? Not a problem. Join us at Instagram by using hashtag #igtravelthursday and share your travel photos.
Bloggers! Join the Instagram Travel Thursday and Host the Linky!
Bloggers, join us! Add your blog post to the Linky above, and you can also take the Linky code and add the Linky widget in your blog! Get email sent to you when the Instagram Travel Thursday linky post is up (
subscribe it here
).
get the InLinkz code
Copy and paste the following rules and the banner image when you host the Linky widget:
Join us for Instagram Travel Thursday! Instagram Travel Thursday is a weekly blog post collection with a purpose to promote the great travel experts on Instagram and Instagram as a source for travel inspiration. Add your Instagram Travel-related post to the Linky. Here are the Linky rules: Link to a new Instagram travel post and use the permalink of your post, not the homepage URL. Only new posts from the week of the linky and no giveaways, other linkys or sales pitches. No links to your Instagram profile, only links to your blog. Link back to one of the Instagram Travel Thursday Linky hosts. Visit a few other posts in the linky and show them some love (comment, tweet, Pin etc.). Links that do not follow the guidelines will be removed. More information at
Skimbaco Lifestyle's Instagram Travel Thursday page
.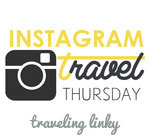 Get the banner: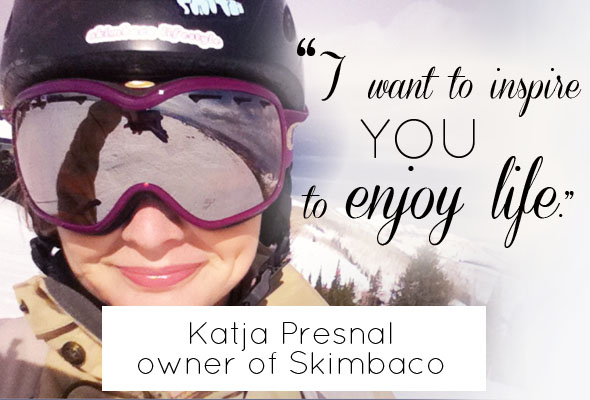 My mission is to inspire you to live life to the fullest and find your own "skimbaco," how you enjoy life where ever you are in the moment. For ideas for travel, home, food and fashion,
subscribe to weekly Skimbaco Lifestyle
feed on Mondays and
I hope you get my newsletter as well
that I sent out sometimes on Fridays.