Shoes make great gifts too, and you can make shoe buying for grandmas and aunties easy by having your child make a "Shoe card" for them – trace the outline of her/his foot, cut it out and she/he can draw on it and make a greeting card out of it, without the child even knowing what's the real purpose of it – letting them know the shoe size.
These finds are for infants and toddlers, with some of them going up to size 10.
Cute finds from Oh!Five:
Oh!Five offers a Buy One Pair and Get the Second Pair Half off during 11/19-12/3, use code BUYTWO
Silver Baby Janes
(36$) by Oh!Five are soft leather and how cute they would be for the upcoming Holiday parties? These would totally make the outfit!
Pink Chocolate
Baby Jane (34$) for those who just can't resist pink on little girls!
One of my favorite sites to get shoes for the whole family is Shoes.com

– here are a few cute finds for toddler girls from Shoes.com:
Shoes.com offers free shipping!
Umi Tilly shoes in sparkly silver and pink, 59.99$. A great everyday shoe with a little festive sparkle in them.
Briley Infant black patent booties by Ralph Lauren (39.99$) are the classic booties for baby's first Christmas.
The cutest new store for infant and toddler shoes is Rosie Toes, these are their Holiday favorites for little princesses:
Zoe
(30$) by Pediped gives dazzle to your little princess. Great shoe for those who must have pink, but want a little extra for the Holiday season.
The oriental silk pattern booties by Precious Pink, only 12$.
These Fall Flower (28$) shoes squeak as the child walks and make taking first steps so much fun and rewarding too.
If you are not into pink and sparkle, and want something little less traditional shoes than black patent mary janes, here are our fun shoe choices for the Holiday season:
Get 15% off at skimbaco.com with code SKI15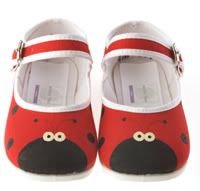 The
Little Ladies
Mary Janes (30$) will make your tot smile beoynd Christmas time.
Livie & Luca just got this new
Hoots Owl
(39,50$) shoes, and they'll get your little one noticed.
More Livie & Luca – they are my favorite brand for tots, so I can't help but sneak in their most popular shoe, the

Veggie Boot

(37,50$) here.

Ten Cute, Great, High Quality and Absolutely Adorable Holiday Shoes for Baby Girls!