The
Celebrity Baby Blog
had two celebrity sightings of Skimbaco products this week, and I think it's always so exciting to know the celeb moms are buying the same clothes for their kids, as I'm buying for mine.

Photo by Bauer Griffin.

Actress Embeth Davidtz, her husband Jason Sloane, and their daughter Charlotte Emily, 5, attend the The PS Arts Express Yourself 10th Anniversary on Sunday, November 4th in CA. Charlotte Emily's face painting is of course the best of the outfit, but what do you think of the pretty skirt she is wearing?
The skirt is Tea Collection
Hermosa Floral skirt
, and I just lowered all Tea Collection Fall line prices, so this beauty is only 39.99$. Celeb-looks for your pretty girl, without having to break the bank!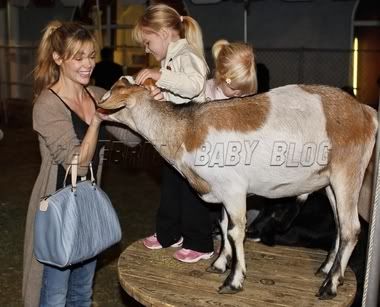 Photos by INF.
And I just ove this photo of
Denise Richrads
and her little girls at the zoo – she looks just like any other mom. Well, of course just way prettier and hotter, but in theory that could be any of us, at the zoo, with our kids. The girls Lola and sam are wearing their favorite sneakers, the
pink Tsukihoshi's
. After the last time they wore them.. they have been flying off our shelves. But if you a quick, we still have two or three pairs left.
Photos are property of the Celebrity Baby Blog
I also wanted to sincerely thank the nice ladies at the What's Hot for Tots site, to add our
Spread Sunshine
necklace as one of the charity items of the month.
What's Hot for Tots
is helping March of Dimes to raise more awareness for premature births.
Read more!

Spread Sunshine Charity ProjectWatch DeAnna Cochran and the Spread Sunshine necklace on Good Morning showDenise Richards likes Tsukihoshi and other Skimbaco-brandsRead interview with the owner of the Celebrity Baby Blog

Update on yesterday's post!