Updated with winner: Janet won this giveaway!
Friday night's Family Movie Night is the new daytime Soap Opera. Once upon a time daytime TV shows came famous for reaching their target audience and the daytime TV started soaring with new shows, with commercial breaks showing mom how to wash her laundry cleaner. P&G got it. Moms rejoiced for programming made just for them, and marketers celebrated finally realizing how to reach mom. Moms changed, decades went by, but it took a while for the marketers to catch up. While the digital evolution is constantly changing mom and families, it has also changed the media. And not always for the best! Finding TV shows and movies that the entire family can enjoy together is getting more and more difficult. Frankly many "kids" movies are not suitable for kids. Two of my favorite family movies this past year has been
UP!
(it still amazed me that an animated movie can get me into tears) and
G-Force
. We also just saw
How to Train Your Dragon
, and while it was cute, it was still a kids movie, I wouldn't have watched it without kids. Soap operas are not hip – family movie night is. P&G gets it. P&G gets marketing to moms (what they did during Olympics was brilliant) and teamed up with Walmart in an effort to bring more quality entertainment to families. The first movie produced by this brand-marriage will debut this Friday, on April 16th, 2010 on NBC. The
Secrets of The Mountain
is an action-packed family adventure. There has been a few exclusive screening events already in New York City and everyone who has already seen it, has loved the movie. I was not able to attend the screening event last week, but will be watching the movie together with my family on Friday.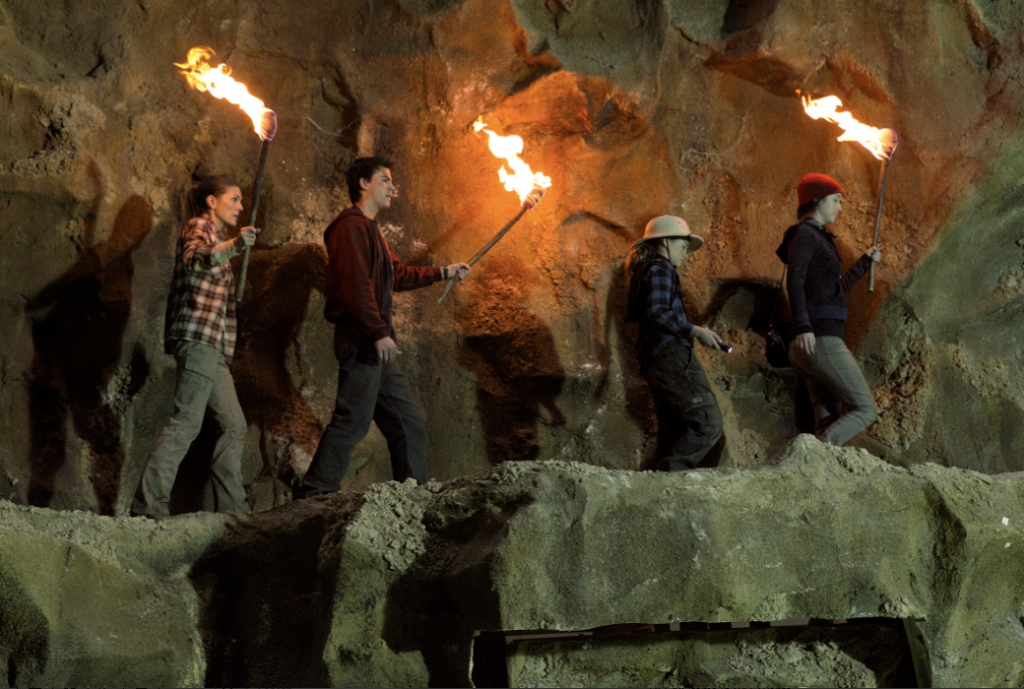 Secrets of The Mountain sounds promising.
Somewhere between the demands of her career, her ex's wedding and her kids' busy schedules, Dana James is noticing her tight-knit family starting to unravel. An unexpected offer to purchase her family's mountain property sets up a weekend road trip, which she hopes will bring her family back together. But when they arrive, they quickly learn that the mountain is much more than it seems. An ancient secret and a treacherous quest will test the family like never before. It's an edge-of the-seat thriller that reminds us that when times are tough, families don't run away from problems – they run back to each other.
Here is what the Walmart Moms like Erika Lehmann of
Chic Shopper Chick
and Lynnae McCoy of
Being Frugal
say about the movie. The soap opera days might be over but I gladly welcome Family Movie Nights as the next generation marketing media vehicle for moms and families. I will be enjoying the free popcorn they sent me, and please, give me more movies that my family can watch together! I don't even mind knowing this is brilliant marketing. In fact, I gladly even promote this marketing. Friday night's Family Movie Night is the new daytime Soap Opera, and let's all just embrace it.
SECRETS OF THE MOUNTAIN GIVEAWAY
Secrets of The Mountain
DVD and the soundtrack, produced by Randy Jackson. One winner for this double pack.
Enter the giveaway:
Comment here what is your favorite family movie – or what did you think of the
Secrets of the Mountain
if you watch it. Leave me a way to contact you. Deadline: April 30th, midnight EST. PS. You can also fan
Skimbaco Lifestyle at Facebook
and get the posts in your FB news stream.