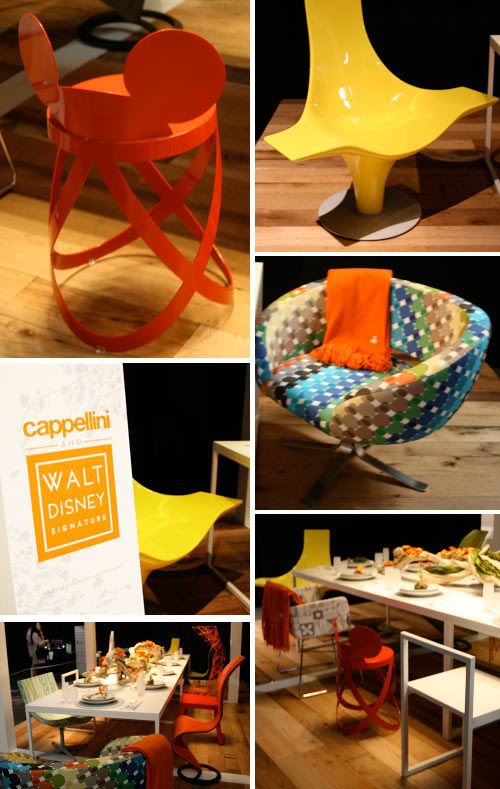 Walt Disney Signature presented a collaboration with Cappellini and created One-of-a-Kind Dining Experience at DIFFA 2010. DIFFA (Design Industries Foundation Fighting AIDS) event was at the same time with the Architectural Digest Home Design Show in New York in March.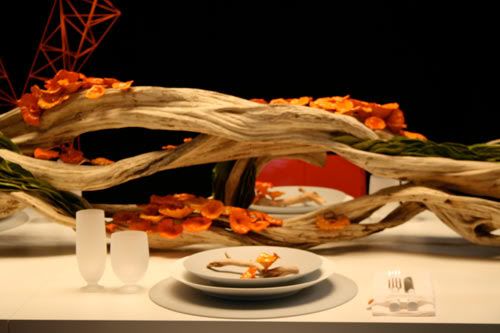 To top off the success at DIFFA, Disney Signature and Cappellini unveiled five limited edition chairs at the Milan Furniture Fair in Italy this week. Some of the chairs were already presented at DIFFA, and they will be available for purchase in late Spring 2010.
Walt Disney and
Cappellini
are both famous for imagination and turning everyday into magic. Walt Disney Signature is Disney's upscale, inspired, non-character, adult lifestyle brand and the Walt Disney Signature offers everything from home furnishings and furniture to rugs, wall décor and tabletop products, even stationery and candles available at specialty stores. Cappellini represents everything contemporary, and offeres avant-garde design known worldwide. Several Cappellini's iconic pieces are also exhibited in museums throughout the world – Victoria & Albert Museum in London, Museum of Modern Art in New York and the George Pompidou Centre in Paris. Cappellini's flagship stores are located in Milan, New York, Los Angeles, and Miami. Innovative design and Disney's magic combined – can you imagine anything better?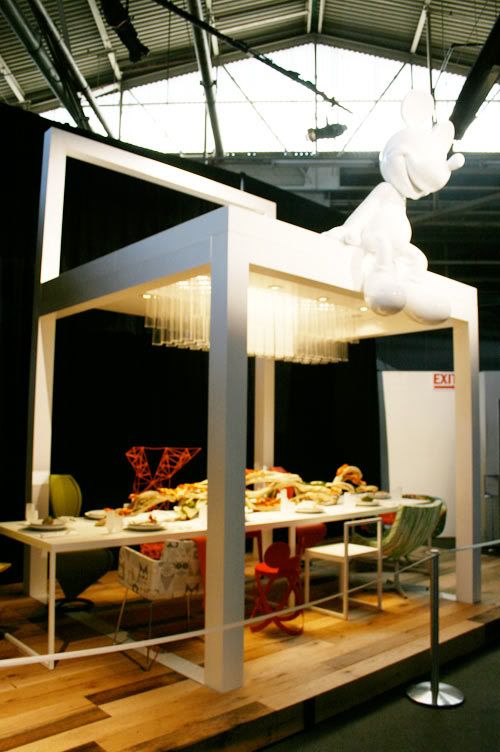 Cappellini created Disney inspired chairs already for DIFFA, and his signature pieces were part of the DIFFA's dining experience. Here are two of the chairs designed for DIFFA.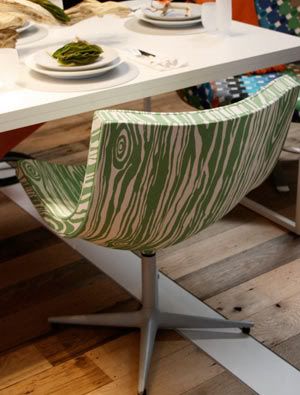 Cappellini's swivel chair got green print inspired by enchanted forest and the armchair inspired by Disney's small world.
These two will not be available for public, but don't worry – the next limited edition chairs will be available for purchase. Oh well – at least for those with very fat wallets – for the rest of us, they are sure pretty to dream of.
MICKEY'S RIBBON STOOL
Walt Disney Signature limited edition from Cappellini – design: Nendo 2010 The Ribbon Stool is one of the most famous of Cappellini's designs and Mickey lends his famous silhouette in this limited edition piece. This iconic representation of the two famous icons represents seamless collaboration between Cappellini and Walt Disney Signature. Mickey's Ribbon Stool is available in high and low stools with backrest. The low stool has a shiny red varnish, the high stool a shiny yellow varnish, and the feet are in transparent plastic. There are only 299 numbered pieces of the low stool and 199 numbered pieces of the high stool. Talk about a collector's piece!
MULTICOLOUR RIVE DROITE
Walt Disney Signature limited edition from Cappellini – design: Patrick Norguet 2010 The Rive Droite chair seamlessly fuses a pure, modern shape, and the print is inspired the Disney's famous mouse making this one of the most covered colorful design piece of hidden Mickeys. The bold colors sure illustrate both Walt Disney Signature and Cappellini's fearless approach to color. There will be only 99 happy people to get this collector's piece.
Y'S MICKEY
Walt Disney Signature limited edition from Cappellini – design: Christophe Pillet 2010 This is probably my favorite hidden Mickey of all times, and unfortunately I can not afford to be among the mere 33 people in the world owning this Y's Mickey chair. With its rounded contours and unique design, the Y's De Lux Chair is the perfect canvas on which to embroider a subtle geometric pattern using Mickey's silhouette. Canvas this isn't though – the chair is white leather.
ECO FISH
Walt Disney Signature limited edition from Cappellini – design: Satyendra Pakhalè 2010 The Eco Fish is the least Disney-looking piece in this collection, but it is the one with the most important message. The Fish Chair with it's shape inspired by nature, is the ideal piece to showcase the latest advancement in fabrication – an opaque, multi-coloured plastic created from recycled materials, moulded using a rotational technique. I love that the collection has a chair made of recycled materials – both Disney and Cappellini are focusing on conserving and green initiatives this year. This is a limited edition of 99. The Walt Disney Signature limited edition Cappellini is available at independent and specialty retailers across the globe. Your local Cappellini retailer will be able to take orders beginning April 26, 2010.