The Missoni for Target lookbook is out! Over 400 products of bold colors, ziggity zag goodness with Target-low prices coming to Target near you on September 13th, and you can see some of the pictures of the clothing collection here and more pictures of the
Missoni for Target home collection
at Skimbaco Home. The Missoni for Target collection has clothing, shoes and accessories for women, men and children, and in addition you can find stationery, bags, luggage, and even a bike! I think the rubber boots are a must for the fall, and this inexpensive collection is a great way to dress out of your comfort zone and get some bold colors for your fall wardrobe. I haven't seen the collection in person, and Target's designer collections have been a hit and a miss, but Missoni for Target sure looks good in the pictures.
All the accessories and bags look awesome, and I love the colors for the fall. I love buying classic clothes in good quality that last year after year, and then accessorize them with products that are less expensive, and the Missoni for Target collection has so many colorful and stylish items to accessorize any fall outfit. One must buy are the tights for adults – I love thick colorful tights for fall and winter!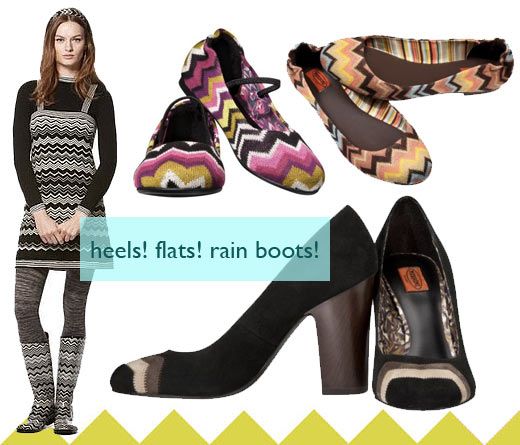 If you have little girls – the Missoni collection has so much colorful cuteness for her too. Missoni for Target makes it easy to dress your mini-me in the same fashion as you. My girls like buying the matchy-matchy stuff with me too, we just don't wear them at the same time. At least not on purpose!
photos:
racked, ology