If you are a mom, I hope you enjoyed Mother's Day last Sunday. Being a mom is the best thing I have ever experienced, but at the same time, the toughest job in the world. Our children now are in their tween/teen years, and I have to admit, parenting teens is not as hard as I thought it would be. In fact, I am having so much fun with it. Our 12-year-old son impresses me with his intelligence and our 13- and 15-year-old girls are also honor students, who are handling being teenagers much better than I did at that age. I, of course, try to be as good of a role model for them as I can, and we talk about everything from making the world a better place to how to have the
best daily beauty routine that leaves you feeling the best you
. There are two things above anything else that make it easier for me to connect with our teens: traveling the world, and watching movies together. Often these two intersect, for example when we saw Selena Gomez in the movie Monte Carlo in 2011, we were determined to travel to Monte Carlo and Paris, where the movie was filmed. We went to Monte Carlo a year later, and have been to Paris a few times too. We also toured Italy, and our favorite movie scenes filmed there. One of our favorite movies is the Pitch Perfect, and imagine our surprise when we watched the
Pitch Perfect 2
trailer, and the kids immediately spotted one of our favorite cities in the movie: Copenhagen! We love Copenhagen so much, that we actually traveled there twice last year. In this exclusive behind the scenes video you can actually see the movie was set in Copenhagen, but the Copenhagen sets were not actually filmed there. Regardless, we can't wait to see the movie, and to see one of our favorite cities featured in it. Pitch Perfect is one of most quoted on movie in our family, and we are huge fans of Rebel Wilson and Anna Kendrick. And of course Elizabeth Banks, who is not just acting in the Pitch Perfect movies, but is also the producer and director in both movies. We have been waiting for the May 15th for months as the Pitch Perfect 2 launch date, and we will be heading to the movie theaters to watch the movie this weekend, that's for sure.
Pitch Perfect 2 Promotion with Schick – and get free tickets
Schick Women's Shave are the sponsors of Pitch Perfect 2, and my plan is to snatch a free Pitch Perfect 2 ticket with a promotion going on with Schick – and you can too.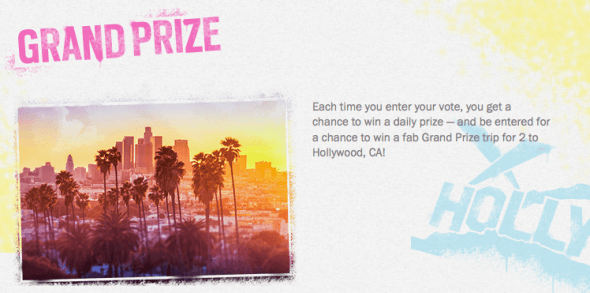 Schick is hosting such a fun aca-battle between university cappella groups at
rockyourlegs.com
. You can win cool prizes just by voting the groups. Watch today's best varsity a cappella groups rock the "Ready, Shave, Shine" song (
see the original on YouTube
). Then vote for your fave group for a chance to win daily prizes and a fab Grand Prize trip for 2 to Hollywood, CA! My favorite is the Syracuse University. But everyone can really get the free movie tickets. Schick is running a promotion for a FREE movie ticket to see the Pitch Perfect 2. This promotion will be running in Ahold stores, which include: Stop & Shop, Giant and Martin's. Buy any participating Schick® women's razors, refills or Skintimate® shave prep products with a combined value of $10 (pre-tax and post coupon) in one transaction during the offer period to receive a movie certificate. Movie Certificate is good towards one admission (up to $10 total value) to see Pitch Perfect 2 at participating theaters in the U.S., at any showing including those designated as "no coupons, no passes" in local theater listing guides. You will receive a print out at register to redeem a
code for their FREE movie ticket
. The promotion will run from 4/26-5/23, so hurry up!
This is a sponsored conversation written by me on behalf of Schick® & St. Ives® . The opinions and text are all mine.