My team of inspiring women
I truly believe in the saying "behind every successful woman is a tribe of other successful women who have her back."
(And maybe I've also occasionally added "and another group of backstabbing women," but that's another story).
I also believe that dreams come true, read more how I will get to sail on Volvo Ocean Race for one day with an all-female SCA team later this week. My tribe, my community, and my team are what keep me going, keep me grounded, and above all, inspire me. A good team is where everyone works towards a same goal, and everyone has equal possibilities of succeeding and when one succeeds, it's a win for the entire team. A good team is where the team leader pushes everyone up – not the team pushing the team leader up. I've belonged to a lot of teams, and in a lot of groups with other women, and when I set to start my own team, I on purpose picked team members who inspired me. I feel lucky to work with a group of women, who have taught me so much about life, business and leadership the past few years. And of course, we are lucky to have our token man, Wes Holland, also in our team. I was asked by SCA to add pictures of inspiring women to their Amazing Women Everywhere Mosaic and here are my team members that I added.
Satu Vänskä-Westgarth (left) and her friend Anne-Marit Storødegård, at Lisfannon Beach, Buncrana, as Satu sets off on her challenge to cycle the entire length of the Wild Atlantic Way. Photo: Evan Logan When
Satu
of
Destination Unknown
sent a several page long PDF resume/application with photos and her travel, marketing and writing accomplishments listed and asked to write for Skimbaco Lifestyle… I started crying. I remember showing it to my husband asking: "can you believe someone like her would like to write for Skimbaco Lifestyle?" I felt I had succeed in my work just by having someone like Satu to contact me about writing for Skimbaco! Satu biked the 1,500 miles / 2500 kilometers of the Wild Atlantic Way, the coastal roadway of Ireland last summer. It took her five weeks to accomplish it. And this mother of two did it on her maternity leave! Satu inspires our entire team to push for the impossible, and dream bigger and bolder dreams.
Reeta Laaksonen in Kerala, India. Reeta has traveled around the world several times, and one of her trips this year has been visiting India.
Reeta
of
House of Anais
was actually my idol already when I was just a kid. Yes, really! We grew up in the same town, and we belonged to the same field and track team. We saw each others at the practice, Tuesdays and Thursdays. I looked up to Reeta, she always took her training so seriously, and the commitment was admirable. In fact, Reeta ended up qualifying for the Atlanta Olympic Games for high jump, but unfortunately was not able to attend due an injury. Teenage girls need role models like Reeta when growing up. We lost touch, and re-connected 15 years later, when Reeta was living in Silicon Valley, and I was living in New York. Today Reeta is a dynamic multi-business-owner, mother of three (including twins), lives just outside London and is a wife to a tech-genius, and I simply don't know how she does it all. She speaks more languages that I can even list (and so do her kids), I am confused how many projects she runs, yet she always has time for her family, and travels around Europe with her young tennis star daughter. All I can say is that grown up women need role models like Reeta.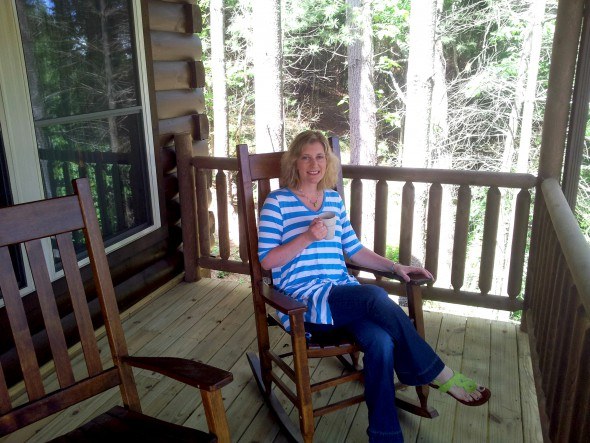 Leigh Hines at Mast Farm Inn in North Carolina. Leigh is so passionate about her home state North Carolina that she started a community project #OutAboutNC to support her state tourism.
Leigh
of
Hines Sight Blog
is my unlikely best friend. And with "unlikely" I mean that we are like from different "worlds." I am from the far north and she is from the south, and we are far from agreeing about certain things. (She likes cats for example, and I am a dog person.) And maybe that's why we get along so well because we are never afraid to tell each others if we disagree. She helps me to see things from a different angle, and helps me to widen my horizon. And truthfully, we are not that different after all, and share the same enthusiasm for finding the best in every day, and her loyalty for people, traditions, family and even hotels is something I admire. Leigh is a former TV news journalist, and after she decided to stay home with her children, she started a second career as a freelance writer and started her own blog. Leigh has passion for her home state North Carolina, and is one of the biggest influencers driving the tourism in North Carolina. She recently started a community project
#OutAboutNC
(and a hashtag on Instagram) to connect people who share the same passion for North Carolina. Leigh keeps things real in our team, and we all envy her knowledge of luxury hotels, and always finding the best resorts to stay in.
SCA all-female sailing team in the Volvo Ocean Race
More inspiring women! This year Swedish SCA put together an all-female fifteen crew member team to compete in the Volvo Ocean Race. The Volvo Ocean Race is the toughest sailing competition in the world. The race starts in Alicante, Spain, and goes through 11 ports around the world. It is 38,739 nautical miles long. Among the SCA's team are some of the best female sailors in the world.
I am so excited to announce that I will be attending a two day sailing event with the SCA team in Rhode Island this week and I will participate to a Pro-Am race with the SCA team as a Guest Onboard on Friday.
I hope you will follow along my trip this Thursday and Friday on
Instagram as Skimbaco
and on
Facebook.com/skimbaco
. You can also connect with the SCA team:
facebook.com/teamscaoceanracing
youtube.com/user/teamscaoceanracing
twitter.com/team_sca
instagram.com/team_sca
Talk about a dream come true!
SCA believes that everyone should have the opportunity to live life to the fullest, and we are committed to creating value for people and nature. To champion these ideals, SCA launches Amazing Women Everywhere, to celebrate women who have a positive impact on others. The women of SCA's all-female racing team, Team SCA, exemplify this spirit. They have come from all walks of life and backgrounds to take on one of the world's most challenging endeavors, the Volvo Ocean Race. For nine months, their journey of hard work and determination will inspire millions around the world.
Follow along with Team SCA on Facebook!
We aim to gather thousands of stories from all over the world and inspire thousands more by illustrating that amazing women truly are everywhere. Visit http://www.teamsca.com/awemosaic to submit a photo of an amazing woman in your life. This is a sponsored conversation written by me on behalf of SCA. The opinions and text are all mine.