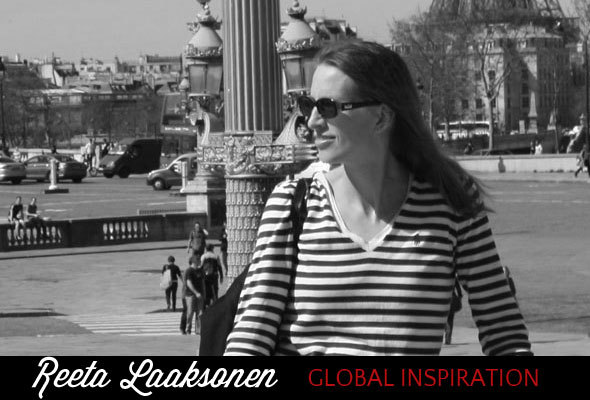 REETA LAAKSONEN
Lives:
Near London, UK
Skimbaco expert topics:
home, lifestyle, travel, all things British
Skimbaco feature:
Global Inspirations – bring the world home
Reeta's own blog:
House of Anaïs
Contact
reeta.laaksonen(at) skimbaco.com with event invitations, travel and hotel/resort pitches and product review requests.
Connect:
INSTAGRAM
|
TWITTER
|
PINTEREST
|
FACEBOOK
Professional background
Graduate of University of Georgia in US and Aalto University in Finland Business consultant and change leader, who has lately ventured into Internet, media and blogging.
Location
Originally from Finland but have been living abroad over 15 years in Europe, North America and Asia. Currently I live near London, UK with my husband and three small children.
Visit reeta www.houseofanais.com's profile on Pinterest.
What do you love about where you live now?
English countryside is very beautiful and green almost all year round. There is so much to see and enjoy from castles and historical homes to gardens and wild nature. But we are never far away from the cosmopolitan London, which is one of the cultural hubs of Europe. Also France is just a stone's throw away as is rest of the Europe.
Your best Skimbaco moment?
We always live life to the fullest, and decided on a whim to move to China in 2012. It was definitely a different experience for the whole family and made us appreciate the choices we can make it our lives.
Your ideal travel destination?
A place that combines both the beach and culture; yet is not overcrowded and too commercial. One of our last family trip was to Bali and it was fantastic: beach on your doorstep, excellent local food and exotic temples everywhere around you. We met there many nice, trusting and open people who welcomed us and shared their beautiful islands and its' treasures with us.
What's your favorite restaurant and why?
I don't have a favorite restaurant – we try to explore new one when we go out. I really enjoy the traditional English roast – especially those roasted parsnips! I also love fresh Mediterranean food and Asian fusion food with coconut flavors.
What does your ideal home look like?
It could be an old stone country house with nooks and crannies, maybe even its own little bell tower. It would be surrounded by a large garden and an orchard full of fruit trees, but it wouldn't be too far away from a bigger city, not a good schools for the kids.
How do you define Skimbaco Lifestyle? What it means personally to you?
Life is what you make it to be. Every day is special and unique and life is now, not tomorrow. You need to find the positive side of every situation and let the negatives go. Life is too precious to be wasted with procrastination, or to be lived with the "tomorrow" -mentality.
What do you dream of?
All kind of things – big and small. Right now I am dreaming of summer, traveling with family and friends, dinners in the patio, organizing a wine tasting for the first time ever. I am also dreaming of taking a new hobby, learning how to sew properly and getting a style makeover, which I think it's well overdue!