Helsinki Real Estate Obsession
I read an article in a local website that real estate websites get more traffic than porn sites in Helsinki, Finland, and that checking out new houses for sale (or rent) can become an obsession due the current market situation. I don't remember where I read it, and I don't know if it is true, but we've had our share of real estate obsession already. We lived on an island close to downtown Helsinki at first, but moved to neighboring Espoo just before Christmas. We are still only 15 minutes from downtown Helsinki, and although not on an island, we now live even closer to water. Like anywhere it's always about the location when it comes to real estate, but in Finland, and the capital area especially it's all about the sea view. Just for the kicks, here are the most expensive houses for sale in Finland. Most of them are in the capital area, but also the most expensive log house in Lapland included.
1. Lauttasaari glass house with own boat dock and pool
590.3 m², 7 200 000 € / 6354 sqft, $8,079,480
The most expensive house for sale in Finland is actually really close where we first lived when we moved to Finland almost two years ago on Lauttasaari island in Western Helsinki. This house comes with a beach, swimming pool and a boat dock. And helluva lot more. (I also lived on the same island when I went to college, so don't let this fact make you think our small rental apartment in Lauttasaari was anything like this.)
See it at
Etuovi
.
2. Brand new modern glass palace in Kulosaari with a spa
411.0 m², 6 200 000 € / 4424 sqft $6,957,330
This dream house truly is a dream you can make your own – it's still being built so you can still decide on materials. Kulosaari is an island in the Eastern Helsinki, and you can look outside the window and admire the skyline of Helsinki and the beautiful sea.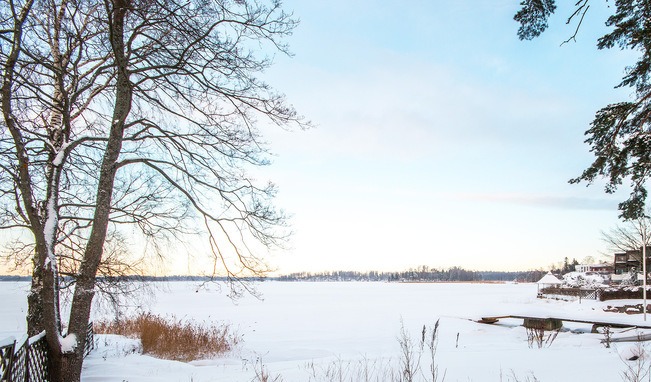 See it at
Etuovi
.
3. Kulosaari glass house with the sea view
347.0 m², 5 000 000 € / 3735 sqft $5,610,750
Another Kulosaari dream. Are you already seeing a pattern? Glass-walled houses with sea views, also gorgeous during winter time. This is my favorite so far, and close to perfection.
See all of the photos at
Etuovi
.
4. Kaskisaari modern classic
375.0 m², 4 480 000 / 4036 sqft $5,027,232
I'm not as big of a fan of the interior of this house, although this kitchen is nice. But it's on another island, called Kaskisaari, and well, the location is just perfect. Who wouldn't want to live on an island?
See all of the photos at
Etuovi
.
5.Penthouse in a historic building downtown Helsinki
421.0 m², 4 300 000 € / 4531 sqft $4,825,245
This is a gorgeous historic penthouse apartment – more precisely the entire top floor – of a building was built in 1885. It's located close to president's castle, the famous cathedrals, and has a view to the market place and the most famous landmark's of Helsinki. And yes, the sea.
See all of the photos at
Etuovi
.
6. Mega Log House in Lapland
686.0 m², 3 690 000 € / 7384 sqft $4,140,733
This house takes us all the way above Arctic Circle in Lapland. Mega log house with everything you can imagine. Perfect if you want space, lots of space, inside and outside the house.
See all of the pictures at
Etuovi
.
Extra: 7. Most Expensive Neighbor's House
320.0 m², 2 050 000 € / 3444 sqft $2,300,407
And just for the kicks… since I started with the most expensive house in our old neighborhood, let's end it with the most expensive house in the neighborhood where we live now, in Nuottaniemi in Espoo. I think you can actually see our house roof in the upper corner of this photo. If not, at least it's very close. Want to become our neighbor?
See all of the pictures at
Etuovi
. So… which one is your favorite?