Outlaws
song is a collaboration between Darude x House Body x Oskr and produced by Darude's new label Vibing Out. Here is my story, of how I ended up being part of the
Outlaws'
music video production. I am a young filmmaker, and I just had the opportunity of a lifetime to be a line producer, casting manager, and editor for Darude's new music video
Outlaws
. Oh yes, and I did some filming too before I was also dancing in front of the camera.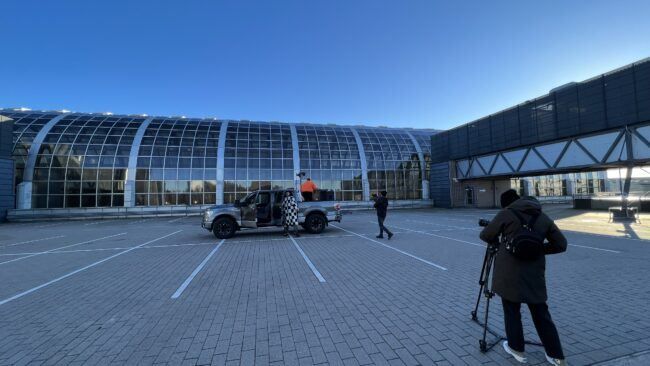 All Darude stories start with a mention of the unofficial Finnish national anthem, the
Sandstorm
.
Sandstorm
was released just a few months before I was born, and I feel like I have just always known it probably from my mom playing it over and over again. The
Sandstorm
music video is very much a representation of the early 2000s, and has a very simple concept of running around Helsinki with a briefcase (stolen maybe), and then getting on a boat with Darude. What's in the briefcase? Who knows. Where are they going? Tallinn maybe.
Inspired by "Sandstorm"'s Running In Helsinki
I started as a YouTuber when I was 12 years old when we moved from New York to Sweden and wanted to share that experience with my friends back in the US. Since then I have taught myself everything I know about editing, and now I have over a decade's experience in video editing.
I am a Finnish-American filmmaker
and once we moved to Helsinki, Finland, almost six years ago, I couldn't help myself but to be inspired by the
Sandstorm
music video's iconic running scenes, especially on the steps of the Helsinki Cathedral, and add a nod to it in a few of my own videos. While the beat of the music in my videos isn't the techno-clubbing vibe, maybe you can tell that they do draw some inspiration by showing the city of Helsinki in a similar manner. I did this
"Helsinki"
video for the Moment Invitational Film Festival competition together with my brother
Kristian Presnal
, and while it's more like slow walking around Helsinki, instead of running, you can still see my editing style with faster cuts. The
"Helsinki On The Run"
video is… surprise: about running in Helsinki. My friend Vera Maria, a marathon runner from Finland, was at the time creating a series of running videos from her travels, and I shot and edited the video for her. You can even find her
Helsinki running track in the Strava app
. Since shooting these videos, I have also made a few short films and a documentary about women filmmakers and I've graduated with a Bachelor's Degree in Culture and Arts, but I never imagined that I would be editing a music video for Darude, shot in Helsinki. I don't have a music video background – I have done live music recordings, but that is a whole other type of production. I've produced ten short films, so I'm not quite new to producing and organizing productions, but being a line producer for
"Outlaws"
, was the first time doing a music video. All of the credit for my involvement with the
Outlaws
music video goes to Jaakko Manninen, aka the House Body. I did a smaller video production for Jaakko's company Tumplate last summer. A few months later, Jaakko asked for help with casting for the music video. We talked about the potential of assisting with the editing because that's what I do. I was ready to do anything to be part of the shoot, and I started by helping to get more extras and being one of the background extras myself. I walked the Helsinki Fashion Week, and I have a lot of Helsinki-local connections with models and creatives, so I started contacting my connections only five days before the music video shoot.
We got an amazing group of energetic dancers that really brought their own vibes to the shoot. All of the dancers are listed at the bottom of this post, and I am just so thankful for everyone showing up and having such a good time, it really shows in the end product.
The shooting location was on the roof of Itis shopping center in Eastern Helsinki on a bright but extremely chilly November day. On my way to the shoot, I was asked to stop at a store to get more gaffer tape and audio cords, typically tasks a production assistant would do. Once I got to the shoot, we had to set up the DJ booth in the bed of the pickup truck.
Suddenly Jaakko just asked me "Do you know Sony cameras and can you film?"
And that's how I became the second videographer for the first part where Darude and House Body are setting up the DJ booth. Then we all got into our dance outfits, and we practiced the dance moves for the video. The choreography was done by Reija Wäre, and it was like practicing a TikTok dance. Then the actual shooting started. Despite the freezing weather, the cast and the crew really made it a fun experience, and I was so excited to be part of it. I felt in my element during the entire shooting day. I never show up just to do the bare minimum, but to give it my all, whatever the task is. And in this shoot, I was the last to leave with Jaakko, and I helped with any production job needed.
I think my dedication to the shoot really solidified my commitment to the project for the rest of the production team. And Jaakko was really advocating for me. I think it is so important that you show up constantly, and are willing to show what you can do, without really expecting anything back. I think Jaakko saw that in me. And Jaakko is an MTV Music Video Awards-winning music video producer, a DJ, and a songwriter, and he used to tour around the world with his hip-hop band Beats and Styles. Jaakko is also known as DJ Control, and he has co-production/writing credits with Darude, Nervo, Felix Jaehne, and Backstreet Boys. It just felt really good that someone of his caliber saw my potential and was willing to give me the opportunity to show what I can do. More importantly, he really advocated for me and got the rest of the production team who didn't know me yet, including Darude, to give me a chance.
This is what leadership looks like – giving opportunities and advocating for up-and-coming creators. And young creators for stepping up.
Once the filming was done, the brief I pretty much got "just make it fast as f&%k" and that's what I love to do. The music video is pretty close to my original edit, but Jaakko still did his editing magic to it by doing all of the color gradings, and adding graphics and animations, and actually slowing down some of the clips. I am so thankful for the opportunity to be part of the production. Here is the finished Outlaws music video, let me know what you think! One of my favorite parts of this project was also Darude's Twitch stream on the launch evening. It was really humbling to hear people commenting and liking the music video edit, and also getting praise from Darude and House Body (aka Jaakko). Check out
Darude.com
and you can learn more about me at
isabellapresnal.com
– and of course, book me for your next video gig.
Photos: Michelle Virtanen, Isabella Presnal
Darude x House Body x Oskr "Outlaws" Music Video Credits
DARUDE – Ville Virtanen HOUSE BODY – Jaakko Manninen OSKR – Oskari Ruohonen DANCERS: Yasmin Janatuinen, Gody Otieno & Jason Tran Director: Kusti Manninen & Jaakko Manninen Producers: Kusti Manninen, Michelle Virtanen DP: Jaakko Manninen & Kusti Manninen VFX/Post-production/Additional edit: Jaakko Manninen / Tumplate Editor: Isabella Presnal Line-producer: Isabella Presnal Casting: Isabella Presnal & Vilma Tiusanen Art direction: Bifu Ahonen Choreography: Reija Wäre Styling: Meri Milash Styling assistant: Sofia Tzoulas MUAH: Noora Varrio Assistants: Vilma Tiusanen, Seppo Manninen, Isabella Nurmi, Markus Voronin & Olli Kauppi Production: Tunne Productions Oy Lighting equipment: Valofirma The Light House Oy Ravers: Aleksandra Näveri @aleksandrajuuli Alma Äijö @alma.aijo Ariel Flander @arielflander1 Choco @supahot_choco Flora Pehkonen @florapehkonen Ilmo @fuckbhaly Kiia Hållfast @kiia.hf Kikiah Provoost @world_of_kikiah Kinito Provoost @hueymchater Olena Tyshchenko @olenko_life Patrick "Pate" @carlos_cilantro Rebekka Sukselainen @rebekkasukselainen Vi Trinh @vihvtrinh Viivi Myllymäki @vhispearl Vilma Tiusanen @villmamatilda Yarushka Staller @YarushkaStaller Special thanks Itis, Sony, Oy Brandt Ab & Valofirma The Light House Oy LABEL: VIBING OUT