WHAT IS SKIMBACO LIFESTYLE?
Skimbaco Lifestyle is a smart, stylish and sustainably happy lifestyle inspired by Scandinavian living.
Our
online magazine inspires
you with ideas how to live life to the fullest by
enjoying fashion
,
good food
, keeping the
family happy
and by
traveling around the world
, and without forgetting to
enjoy every day life at home
.
SKIMBACO LIFESTYLE ON PINTEREST
You will find more ideas for living
Skimbaco Lifestyle from our Pinterest boards
. We have organized many of our boards to reflect a lifestyle in a specific region (state or country), the location based boards give you ideas how to enjoy life respecting the cultures and traditions in different locations. You don't have to go to
Texas to enjoy a good pecan pie
, nor you have to live in Paris to look
Paris Chic
, or your home can be thousands of miles away from the ocean, but you can still find ideas how to decorate it coastal style
like it was at the Hamptons, or Cape Cod
. You'll also get ideas what to do on your travels, whether it's your next trip to
NYC
, or your bucket list
vacation to Italy
. We also think that the best people to know what's the best in their location is the people who live there and are passionate about the culture and that's why we opened up our location based boards to multiple contributors.
Join the Skimbaco Pinterest Trendspotters Team
Skimbaco Lifestyle is YOUR lifestyle of enjoying life in a smart, stylish and sustainably happy way. It's all about finding happiness in today, it's about dreaming and making world travel happen but enjoying staycations and home equally, it's about being in the know what's trendy, but keeping your own style. Skimbaco Lifestyle is all about finding adventure and seizing the moment, but not letting anyone else to define those for you. It's living a little, and enjoying small things, but also dreaming big, and giving up on small things in order to make big dreams come true.
Do you feel YOU live Skimbaco lifestyle and know how to do it the best in your home location? Are you an expert of for example European travel, Hollywood fashion, or Asian food? Join our Pinterest team! APPLY NOW.
BENEFITS OF BEING A SKIMBACO PINTEREST TRENDSPOTTER
– You will be part of an inspirational and stylish brand whose mission is to inspire people to live life to the fullest. – Your Pins will be seen an average of over 4,000 followers as of our starting date. – You can be seen as an expert in your area, or your field/niche and can leverage it in other places. – You can become part of a team of people who share the same passions as you. – You can join our Skimbaco Pinterest Trendspotters Facebook group where you can share your pins or blog posts that don't fit the Skimbaco boards, or you can connect with other Pinners and get How to-tips about Pinterest. – We give shout-outs to Pinterest profiles to follow on our Twitter page with over 33,000 followers.
REQUIREMENTS OF SKIMBACO PINTEREST TRENDSPOTTERS
– You will have to have a Pinterest account with over 400 pins. – You have to be active on Pinterest, and pin at least once a week on your profile. – You have sense of style we are looking for, and have already been pinning the type of content we are looking for. –
You will have to understand Skimbaco's Pinterest policy and rules and what our brand stands for.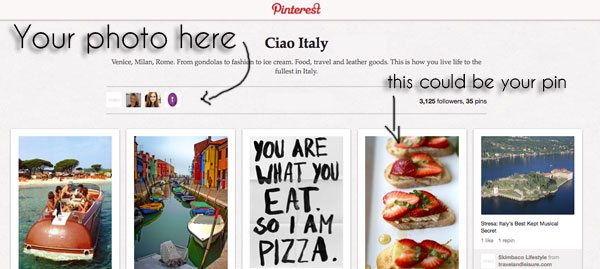 FAQ's about becoming a Trendspotter
I'm a blogger, can I become a Skimbaco Trendspotter? Can I pin my own content?
YES, and YES. If you own your blog, which only has one writer (you), you can become a Trendspotter and Pin your own content from your site
following the rules
. But hey – Pin with good manners, OK? Don't be the one who only Pins their own content.
Wait, what? I can Pin my own content? Why would you let other bloggers Pin to your boards?
Skimbco Lifestyle is about all of the different ways of living life to the fullest and we can't possibly cover it all on our site, so why not send our audience of people who want to be inspired to read it somewhere else? We would love to partner with other blogs and sites who inspire people to enjoy life. Hey, maybe some of your audience would like our stuff too..?
Hey, we are friends, but I write about completely different topics as what you have at Skimbaco, can I join and Pin my content?
NO. Sorry, I know we are friends, and I like reading your content about relationships & sex, politics, funny things your kids say, and the posts about organic farming, social media and blogging tips, and especially the sarcastic humor ones, but sorry, that kind of content is not what we are looking for. Skimbaco boards are not a reflection of what our owner Katja Presnal likes personally, but a reflection of what our brand is about.
I'm not a blogger – can I apply?
YES! If you have our sense of style, you love living life to the fullest and Pinning, you can become a Trendspotter. Owning a blog is not required.
Um, I'm a guy, can I be a Trendspotter?
YES! A man who loves Pinning and living life to the fullest? A gem like that is highly welcome to our Trendspotting team.
I just joined Pinterest, and don't have many pins yet, but I KNOW I could pin awesome stuff for Skimbaco, can I become a Trendspotter?
MAYBE.. why don't you pin a while and have at least 400 pins and see if you really like Pinterest and then apply? We can't know how awesome you are unless we see your pins!
We are a great design/travel/food/fashion brand, and would like to apply as a company to be a Trendspotter, can we apply?
MAYBE.. NO, If you mainly pin your products and would like to fill our boards with your product photos. YES, if you play nice and share relevant information our audience is interested in beyond what your company offers. If you are interested getting visibility for your product or travel destination on our site, Pinterest boards, Twitter or Instagram feeds, please
contact us
for opportunities to work together, you might also want to see
our media kit
.