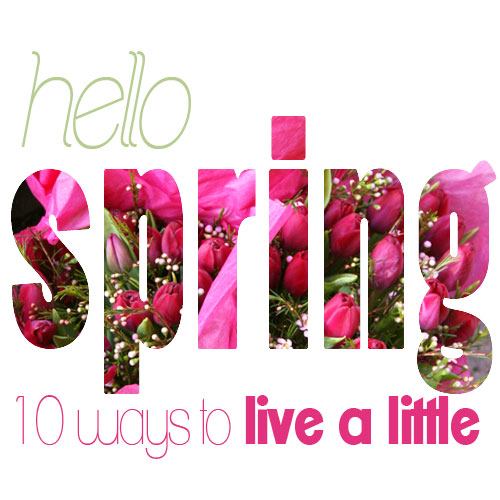 It's
Live a Little Monday
– and time for weekly dose of happy living, jump on the bandwagon and write your own ways to enjoy life this spring.
10 Easy ways to enjoy spring
1. Buy tulips. Or other cut spring flowers. 2. Bring out the spring clothes and wear some color! 3. Go to farmer's market and find seasonal produce, like asparagus. Try
Salmon and Asparagus With Hollandaise Sauce
, one of our family's favorite easy dinners. 4. Go for a walk and breathe fresh air. Sounds simple, but trust me, you'll feel better. 5. Pack away winter clothes… and while this is not
enjoyable
by my measures… but emptying your closet of clothes and then
filling it with seasonal clothes
can be fun. 6. Get a haircut. 7. Or better: try a new hair color. This will do wonders for your mood and you'll be ready to rock the season. 8. Open the windows and invite spring indoors. The weather is just perfect, not too cold and not too hot, bring the fresh air in! 9. Kick off the grilling season or have a picnic. Or have a coffee/wine/beer or whatever your drink is, on a terrace. Just eat and drink outdoors! 10. Get a pretty pedicure and show off your toes with open toe shoes.
See our Spring 2014 e-magazine issue "radiant flowers" for more flower infused spring stories.