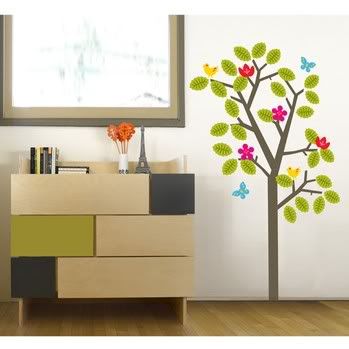 Could decorating be easier than using wall decals?
Buy it, peel it, stick it and enjoy it.
Enjoy the wall decal as long as you want and then just peel it off.
To be honest, I am more of a mural girl, I have painted bunnies, sky with clouds, trees and butterflies, even a Paris street scenery on our kids' rooms. But the sorrow and tears when we had to leave all those behind in our moves. Now I would be just happy to personalize the walls with a splash of color and with the easiness of wall decals.
Here are some great stores offering wall decals. Most of these companies offer great wall decals for all of your rooms – yours and kids' rooms.
WALL STICKER SHOP
One of the best selections of modern wall decals can be found at the
Wall Sticker Shop
, and you can find several of the best wall decal brands from their selection, like Blik, Wall Candy, Bodalee etc. The best is that you can easily find all the different styles and brands of wall decals conveniently from one store.
BLIK
Blik
offers everything from designers like Keith Haring to Charles & Ray Eames and from nature themed to robots and critters – wall decals for every room. Prices from 38$.
dVIDER
With
dVider
wall decals you can let your imagination run free. You can order the stickers from the modern collection in any color you wish. Mixing pictures and matching colors makes it easy to let your own personality to show. Starting at 13$.
VINYL WALL ART
Vinyl Wall Art
offers such a cute variety of wall decals, and the prices start at 3$ each for the smallest size. Great way to give wall decals a try – get a few small ones on the wall next to your child's bed or desk, and then see if you like it and want to go bigger and take on the whole room.
WALLCANDY ARTS
Wallcandy Arts
– yup, it really is candy for your walls. So colorful, and so cute, perfect for any kid's room. Planes, flowers, dots and race cars. Great selection of colorful choices. Starting at 34$.
WALL DECAL SHOPPING LINKS:
Wall Sticker Shop – best selection of different brands Wall Decals at Amazon.com
– different brands
Blik
dVider
Vinyl Wall Art
Wallcandy Arts
Scribble It at Etsy
Elephannie at Etsy
Elly Nelly at Etsy