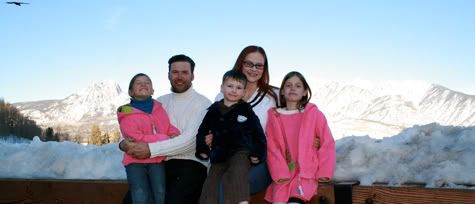 Hi there, today starts the
Ultimate Blog Party
, hosted by the
5 Minutes for Mom
and I'm happy to party along.
If you haven't visited my blog before, let me introduce myself.
I am Katja.
I am a fashion-freak-former model.
I am a cinnamon-bun-baking-housewife.
I am a marketing-loving-business-woman.
I am a "let's-jump-some-more-on-the couch-kids"-mother.
I am a fun Finn living at the Rocky Mountains, living my
Cindrella Story
with the love of my life, and with our three children. I've been
married
to Matt for 10 years this July. Matt is from Austin, Texas, I am from Paimio, Finland, and our paths crossed in Frankfurt am Main, Germany over 10 years ago.
We rescued our dog in Enterprise, Alabama, had our first daughter
Isabella
in Turku, Finland, and second daughter
Gaby
was born in Schweinfurt, Germany.
We bought our first house in Watertown, New York, where our son
Kristian
was born. We had three children in less than three years, and they were all born in different countries!
We've lived on the beach in Virginia Beach, on the lake in Cleveland, Ohio.
We've experienced tornados while we lived in Tennessee, tasted wines on the Main river valley.
We've seen the King's castle in Stockholm and the whales in Cape Cod.
Matt is a crazy
helicopter pilot
saving people from the mountains, I am even crazier work at home mom of three kids. We go on
car shopping trips
to Europe, and
ski at the mountains
of Colorado.
I guess you could say we don't do
normal
, and we thrive to live life to the fullest.
My dream has always been having my own store, and I
started
with an online store one year ago.
Skimbaco.com
is my answer to parents who want to shy away of mass production and wanted something special for their children.
I am constantly looking for new products that fill the high quality, unique and ethical criteria I have for all products, especially children's, and I love sharing my finds with other parents on my blog. I host
giveaways
, write about
what's hot
at the moment and sometimes even investigate what's up with
Mattel recalls
or what are the best skin care products and what we should know about
household chemicals
.
I care, I share and I love to meet new people.
I might not fit in your normal box, but I bet once you'll get to know me, you'll like me – who ever you are. Think of me this way: in high school I was the popular girl, who skipped school for modeling gigs and dance lessons, but also the one who rallied for animal rights and the geeky nerd who attended math competitions and loved to talk IT and play ball with the boys.
I bet who ever you are, I will like you too – I like to hear views of life from different perspectives, and would love to hears yours too. That's why I love
virtual reality
– it is so easy and fun to get to know people who you might never meet in real life.
Thanks for visiting my blog, and hope to see you again! Leave your mark, so I can come and visit your blog too!
Katja
Ps. I blog every day – I'm part of
Blog 365
.
More about the
Ultimate Blog Party
:
The Moms at 5 Minutes for Mom are hosting the Ultimate Blog Party once a year. Fabulous giveaways, you will meet new bloggers (1000 last year, and I bet double this year), and the party will go on for an entire week, starting right now!
Come on, join the fun and get to know some new bloggers! And yes, I will be hosting a few giveaways too this week, to celebrate the Ultimate Blog Party. The
Baby Light & Clip Giveaway
will end tonight!
QUICK NOTE: I'll be hosting several giveaways this week! Baby clipper, shoes, purse, baby blanket, children's clothing… check them out!