Funky Four Peas personalizable backpacks, messengers and lunch bags just arrived at
Skimbaco
!
Backpacks! I know, I know, school isn't even over for this year every where yet, and I'm already telling about new products for the fall… Crazy! Just couldn't resist whispering kindly: remember these cute backpacks later this summer when shopping for new gear for school. And these are great for summer camps and travelling too.
(and don't worry, I'll remind you of these great bags again when it comes time to shop for back to school)
Four Peas bags are cute, durable and great for people of any age. The
Biker messenger bag
(43$) was actually just featured at Pregnancy magazine as a Father's Day gift idea! And what's not to love: the messenger bags are cool, and work great as a laptop bag or a diaper bag – and nobody will ever know what's inside, great trick for new dads ;)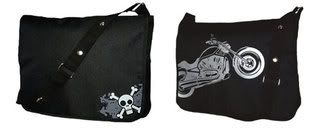 While shopping for kids backpacks might not be in your mind right now and you welcome the break from school – you still might want to check out
Four Peas' new collection
.
The toddler bags (25$) are great for little ones, the thermos lunch bags (18$) work year round and there are so many cute styles of the messenger bags (43$), that I have hard time which one to choose (yes, for me!). The best: you can customize every single one of them with your initials or name.
Special Offer:
Shop now and receive 15% off your
Four Peas bag
order. Use code: FOURPEAS Expires: 6/15/08