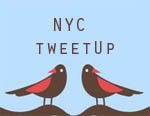 I want to meet you in New York!
September is here and we should really decide on the TIME and PLACE of the TweetUp. After reading everyone's messages I'm trying to accommodate as many people's wishes as possible and made a decision for
Saturday September 27th
. I am thinking a late afternoon so even moms with babies can attend, with an option to continue the night out somewhere else afterwards (hey, this mama has never partied in NYC so somebody better show me some good time :) I have a feeling that a two hour quick meet and greet isn't enough, I've been waiting to meet you guys for so long.
According the answers to the tread I'm assuming it'll be around 15-20 people. Since I'm the new girl in town, I am going to need some help from the Real New Yorkers to set up the place.
Please RSVP
to katja.presnal at skimbaco dot com or preferably by leaving a comment here so everyone can see who is coming.
I'll let everyone know of the exact time and place as we get it figured out, but for now on mark the Saturday, September 27 afternoon (and evening!) to your calendars.
UPDATE: two already said 27th isn't gonna work for them. Let's keep it still nro 1 option, but if that doesn't work for you, would October 4th be ok?