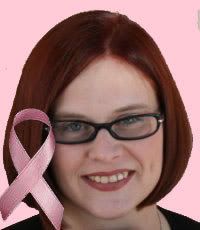 What are you doing this October to raise breast cancer awareness?
I changed my Twitter avatar to the above picture and joined
Gal to Gal Walk
a fun virtual walk raising awareness of breast cancer and benefiting the
Gal to Gal Foundation
, the non-profit organization raising funds and awareness for stage IV breast cancer patients and their families.
These might be small things, but sometimes when small people do small things, and there are a lot of small people, we can all make a difference together. If my pink avatar makes one woman to go and have a mammogram taken or remember the recommended monthly self-breast examination, I have helped.
Actually, I encourage you to educate yourself of the
risk factors for breast cancer
and start
breast cancer prevention
by choosing a healthy
life style
.
I would also like you to join me to the Gal to Gal Walk and start helping those who are living in the most critical phase of breast cancer, right now.