Buy the Today's Moms book: TODAY'S MOMS: Essentials for Surviving Baby's First Year ($11.55)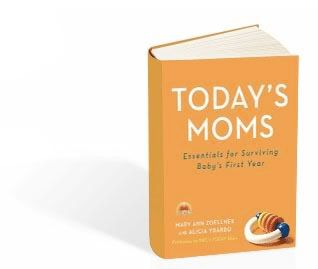 Mary Ann Zoellner and Alicia Ybarbo are Emmy-award winning producers, and have been part of the Today Show team for nine years. They also have more in common: they both have two children. After coming to the realization that more and more moms turn into the Today Show for advice, comfort and humor, they teamed up to collect all the wisdom they have been sharing on TV for years in between book covers, and the
TODAY'S MOMS: Essentials for Surviving Baby's First Year
– book was born. And to
really
get the TODAY's touch… (like these two superwomen weren't enough) contributors include Meredith Vieira, Ann Curry, Matt Lauer, Al Roker, Kathie Lee Gifford, and many many others. The book will be released on April 7, 2009 (you can pre-order at
Amazon
) and celebrating the release of the book, the authors of the TODAY'S MOMS will be hosting a LIVE "Ask the Author" session at Twitter.
The Q&A event with the Today's Moms will take place on Tuesday, March 24th between 2-4 pm EST.
Mary Ann and Alicia (
@todaysmoms
) would also like to encourage you to ask questions ahead of time using the tag
#asktodaysmoms
or leave a question on their
facebook
page or comment and leave them here – I will forward the questions for you! And for the actual event the hashtag
#todaysmoms
will be used to keep up with the tweets. I hope to see you at Twitter on Tuesday at 2 EST so you can join us and ask your questions for the Today's Moms and learn how they and the other co-hosts from the Today Show managed to survive parenthood amidst their lifestyles! My question will be – how they embrace the Skimbaco Lifestyle, living life to the fullest!