Guest post by Bette Holtzman
1. Take a Trip to the Farmers' Market.
Farmers' markets are unexpected family-oriented places that offer great stimulation for children. They present a fun learning opportunity where kids can experience various colors, shapes, sounds and smells. Kids can touch and taste. And there are plenty of freebies, which means mom and dad don't always have to buy! Frequent visits allow a family to develop relationships with local farmers and vendors in their community. Find a
local farmers' market near you
.
2. Do a Little Gardening.
This is an inexpensive way to teach your kids about nature. Buy a packet of seeds from a local hardware store or gather some leftover seeds from the fruits and vegetables you bring home from the market. Kids can plant flowers, fruits or vegetables in your backyard garden, a flower pot, or a widow box, and watch them grow. Plus, girls and boys love to play in the dirt!
3. Visit the Schoolyard or Playground.
Head to an elementary school playground outside of school hours, or any local park or playground. When your kids have tired of the swings and jungle gym, go for a walk or take a bike ride.
4. Go on a Picnic.
Pack up some peanut butter and jelly sandwiches and juice boxes and spread out a blanket at a nearby park. Meet up with other moms and dads and their kids. Feed the birds or ducks day-old bread—just watch out for those pesky squirrels! You can even bring the family dog or a favorite doll or stuffed animal along for the fun.
5. Make Your Own Bubbles.
Whether you're at home in the backyard or at the park, blowing bubbles is always a fun activity for kids. Take the fun one step further and make your own bubbles together! All you need is a shallow pan, a little dish soap, water and glycerin (available at your local pharmacy). A house fly swatter doubles as a wand for lots of teeny bubbles. Check out some great bubble recipes and tips at
Bubble Blowers
.
Bicycle by Schwinn
6. Hold a Neighborhood Bicycle Parade.
Round up the children on your street and hold a bicycle and tricycle parade through the neighborhood! Use newspaper comic strips as handlebar streamers. Attach playing cards to the part of the bike that holds the wheels in place, and when the wheels turn, the spokes will make all sorts of noise.
7. Have a Garage Sale.
Get rid of "stuff" in the house that you no longer want or need. Parents are always looking for "gently used" children's things. Let your school age kids manage their own lemonade stand—always a big hit! Or, if you're in the market, take your kids to a neighborhood garage sale. Let your kids pick out a "new" toy. Remember, another kid's old toy is new to your child! Garage sales are also great places to find gently used books for all ages to read. Check your local community newspaper for garage sale listings.
8. Sidewalk chalk is a great invention.
It's thicker than blackboard chalk (easier for small hands to maneuver), it lasts longer, and it comes in colors and fun shapes. Any sidewalk or driveway becomes a canvas for "works of art" and will attract children of all ages. This is a fun mess that is easy to clean up with a garden hose or families can just wait until it rains.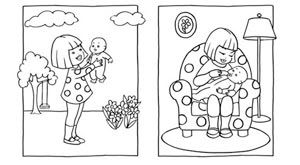 Download Free Coloring Pages
9. Walk the Mall.
Many local malls open their doors for walkers before the stores open. Get a group of moms and dads together, grab the kids and strollers, and head out bright and early to get some exercise. Moms and dads can visit the coffee shop afterward and bring some juice boxes for the kids. Call your local mall to learn more about their walking program, as some require registration.
10. Visit the Public Library.
The public library is a terrific and often underutilized resource for families. Because early literacy is a huge part of the library's mission, most libraries have a number of free programs including story times, author readings, reading contests, and even craft activities. Check your local phone book for library and branch information.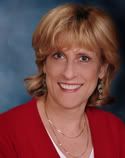 Guest post by Bette Holtzman. Bette Holtzman has been a family therapist and children's advocate for more than twenty five years. As Goldberger's vice president of consumer and family advocacy, she interacts with parents, product designers and professionals to help clear paths of information and inspiration in the playthings Goldberger creates and in the concerns of parents for and about their children's playtime. The Goldberger Company is a 93-year-old family owned and operated toy company that specializes in dolls and playthings for children aged 0 to 3. The company prides itself on providing high play value toys at a low price point. Goldberger's "Love it for Life" guarantee offers a lifetime guarantee on all their products.