… so we took kids to audition for the next Ben Stiller movie, the sequel to
Meet the Parents
and
Meet the Fockers
. They are looking for two kids, a boy and a girl in the ages between 6-8, and since I happened to hear about the audition, and Gaby and Kris happen to be in the age frame, we went and took them to audition for the movie today. No, we don't have any unrealistic plans of moving to Hollywood any time soon, and obviously kids don't have any experience in the acting business (even though they fake cry pretty well if I may say so), but part of our "Summer Camp at Home", we created a plan to do something unusual and special this summer – instead of doing any actual summer camps. Summer vacation hasn't started yet, but we took this as one of our special new experiences. My best friend's child has been in a few movies, so I called her yesterday to give us some tips, and she told me to put an acting resume with photos together. So I whipped up some resumes yesterday, printed out some photos I took myself, and listed all the experience (like school plays) and their special skills like knowing how to ski. Let me tell you, it's really weird to write a resume to 6 and 7-year-olds, I mean, what are considered skills anyway; like does talent to tell fart-jokes or win a staring contest count? But I am all about living life to the fullest, and how many kids get to say they even auditioned for a Ben Stiller (and let's not forget Robert De Niro and Dustin Hoffman) movie..?
(Ok, hundreds and hundreds, so as you can imagine we have no expectations to get called back)
.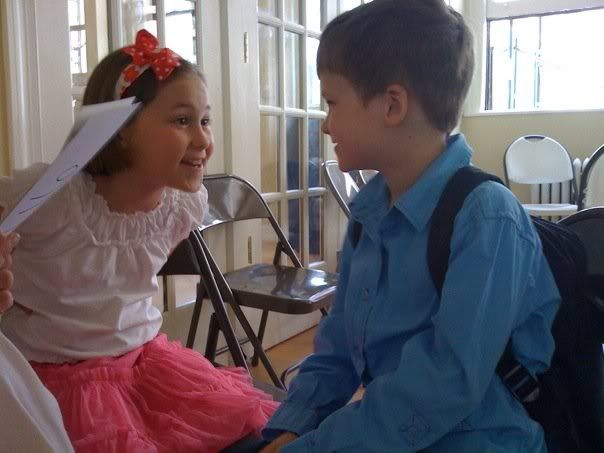 Gaby and Kris practicing their lines.
We got to the studios an hour late, and I'm glad we did, because we ended up waiting only like 30 minutes or so before the kids were called in to audition. They gave the kids simple lines to rehearse and they had to say them in the front of the camera. They were asked a few questions, and it was all over in less than 10 minutes. Kids were excited about the new experience, but we explained that they are looking for a certain type of kids, and even if they did perfectly in the audition, they still might not be the type they are looking for, like they might be looking for kids with blue eyes, and their eyes are not blue, so there is nothing we can do to change it. I don't think it's going to be a big deal for the kids if they never call back – for them just the audition was an exciting new experience. Then again, if they will get called back, that would be focking awesome, and we'd totally go to Hollywood…