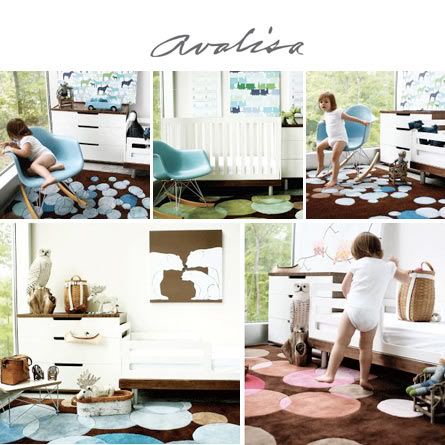 Two of my modern design favorites for children's rooms are Avalisa and Oeuf.
Avalisa's
modern wall art gives nice bunch of color to any room, but are great for nurseries and kids' rooms when you don't want the Winnie The Pooh nor Superman to be part of the decorating but you want to bring some color and design to your child's room. And kids love the simple designs and bright colors of Avalisa's art. Last year Avalisa also launched a new product line: wool rugs. The rugs are great for kids rooms, but work for any room in a modern family home. I of course love Avalisa because of the designer's Finnish grandmother after whom the company was named. The designs also have the modern Finnish/Scandinavian look.
Oeuf
on the other hand is a company of French/American wife and husband team, and their furniture is innovative and became instant modern classics. The Oeuf furniture is also pictured above with Avalisa wall art and rugs. The modern furniture line includes bookshelves, dressers, beds and cribs and the cribs are probably my favorite. The Oeuf furniture is also pictured above with Avalisa wall art and rugs. One of the best thing about Oeuf cribs is how they turn into toddler beds giving you a furniture that will last for a long time in your child's use. I love products like that for sustainability reasons as well. And speaking of sustainability – Oeuf's products are made in environmentally friendly factory in Latvia, where they recycle 100% of the waste wood, use packaging recycling program, reprocess waste into usable fuel and thus are 100% self-reliant for heating.