I had an opportunity to drive the
SeaWorld's Manta roller coaster / under water experience, and it was nothing like I have experienced before! I am a huge fan of SeaWorld and the sea life, and the under water experience was amazing! There is a glass ceiling and the string rays swim on the top of you. See the photos below – it was amazing! And then the roller coaster… I am scared of heights. Really, I am terrified to even sit in a ski lift, but I still do it for the love of skiing. Roller coasters are not my thing, or at least those that make you go your head down. But I was pretty determined to ride the Manta, and not let my fears to take over. I was actually excited – I wanted to like this thing. I saw other bloggers like Julia to ride all over and over again, it had to be fun.. I rode it with Janice of 5MinutesForMom.com and Gwen Bell, and we had a very unique experience to get ourselves filmed during the drive! See the video on the top and ride the Manta with us! After I sat down in the seat of Manta and the seat belts locked down I was OK. Even when the seats turned you down so I was in horizontal position – like flying!- I was OK. Then Manta started moving slowly, and I was OK, actually more than OK, it was the coolest thing ever to slowly fly in the sky, even though pretty high, and I really was ready to love the ride. But then my head was down, and I saw the ground, and my stomach turned… and I closed my eyes. For the most of the drive. Well, my hair was in the front of my eyes anyway making me look like one of them walruses we saw at SeaWorld. But I survived, and wasn't scared. And I have to say I even enjoyed it… Not as much as Gwen did (watch the video!), but I did like it.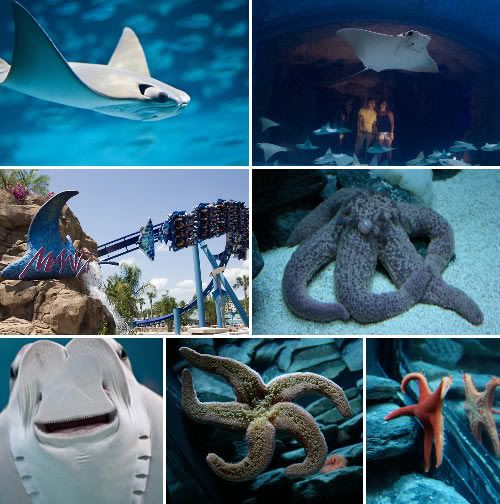 Thanks to Janice of 5MinutesForMom for some of these photos used here.
Thank you IZEA and SeaWorld for sending me to SeaWorld!