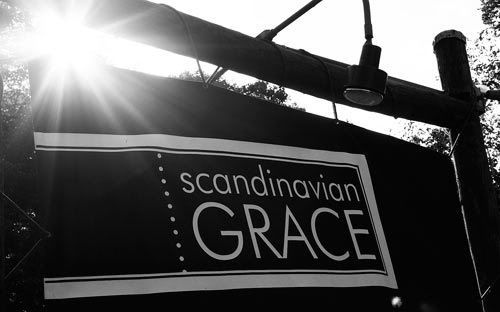 And the skies opened up. The Scandinavian design skies that is. I visited the Scandinavian Grace store in Catskills, in Shokan, New York. It's a good two hour drive from the city in the weekend traffic, but it's worth it, just for a fun shopping trip and a Sunday drive. The Scandinavian flags welcomed me in the front, including my Finnish flag on the corner of the building, which looked like an old gas station with a repair shop, now pained bright blue with contrasting black window sides.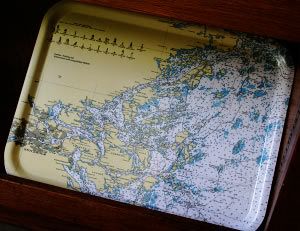 As I step in, a tray with a navigational nautical map of archipelago of Stockholm speaks to me in such volumes on the bottom of the shelf, that I need to hurry in to the store before anyone sees the home sickness in my eyes. The store quickly makes me feel like I was back home. Marimekko's fabrics hang from the ceiling (I want to take them all home) and Iittala's glassware makes me miss my childhood home. Ah, what a nostalgic day trip – an hour from our home to piece of Scandinavia right in the middle of the Catskills. I take photos like a paparazzi, and the store owners stop me, making sure I am not an industrial spy, planning on opening a competing shop nearby. Oh, I wish!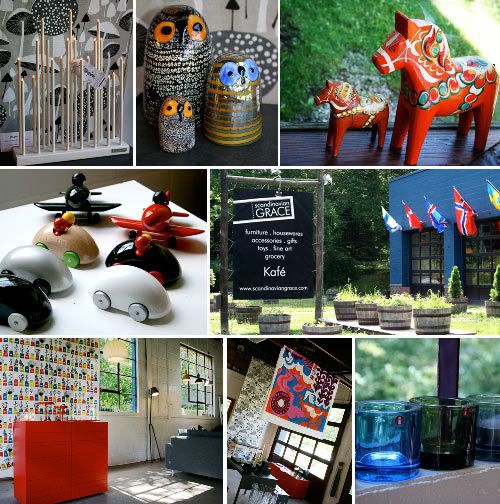 Once I get the owners to believe me that I only would open such a beautiful store if I won the lottery, which is highly unlikely, since I never even buy tickets, they start telling me about their fairly new flagship store that opened last winter. Fredrik Larsson and James Anthony opened the first Scandinavian Grace store in Williamsburg, in Brooklyn, and now expanded their business with this new location. You can tell that these two men have passion for Scandinavian design, and we soon find a common ground, talking about our favorite stores in Helsinki, and about scouting for vintage Arabia dishes from eBay. And about their fabulous store, which gets nice amount of visitors from the city, as it is such a peaceful place to come and hang out for a day from the busy city. As we speak, a couple walks in greeting the owners in Swedish saying they drove in from NYC to check out the store, and I continue shopping and looking around.
James Anthony and Fredrik Larsson
Scandinavian Grace has a very good collection of design from Sweden, Norway, Denmark and Finland, and even from Iceland. The products they offer are the basic building blocks of Scandinavian homes, design & quality that lasts for centuries, art-like objects, with very common functions. On the back right corner of the store there is also a section of second-hand furniture. I really like the idea of offering the vintage pieces as well, but the section looks a little miss-matched to the rest of the store. If I really had my own store, and offered both old and new pieces, I would mix them so people can see how you can mix what you already might even have with new things from the store, and how you can incorporate even maybe the flea market and garage sale finds with expensive designer pieces. The owners told me they change the look inside the store often, so maybe next time they will mix some old and new – like in real homes.
My friend
Stephanie
walks in, and I thank her for telling me about Scandinavian Grace and meeting us for a Sunday afternoon coffee. And even if you are not looking for designer home furnishing for your home, Scandinavian Grace is worth the stop just for the coffee, Scandinavian cookies, and tosca cake (almond cake, I must share the recipe some day, so easy, and so good).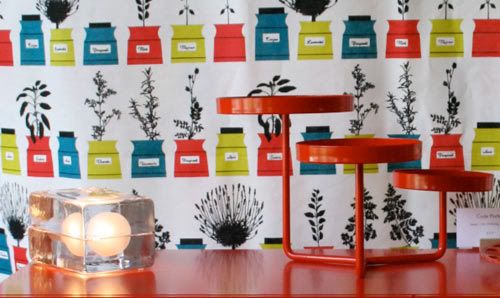 While there are so many of my favorite items in Scandinavian Grace, I picked two favorites today. The simplicity but functionality of the
Block Lamp
by Design House Stockholm, designed by Harri Koskinen and the
Cookie Stand
by Asplund, designed by Stina Sandwall both represent Scandinavian design to the tee. SCANDINAVIAN GRACE, BUTIK & KAFÉ 2866 State Route 28, Shokan, NY 12481 You can also shop
online